"What do you think?" he asks eagerly. "Isn't it cool?"
As local sommelier Dave Johnson peers through a narrow pane of glass in a wooden door overlooking an expansive beer garden at the newly-built Ocotillo Restaurant and Bar in central Phoenix, he can barely contain his excitement.
"Come here and look at this," Johnson says as he places his hand on the glass, leaning in closer. "You're sitting out here, it's early evening, we've got the bar open, there's a DJ out the back and everyone's just chillin'."
THE VISION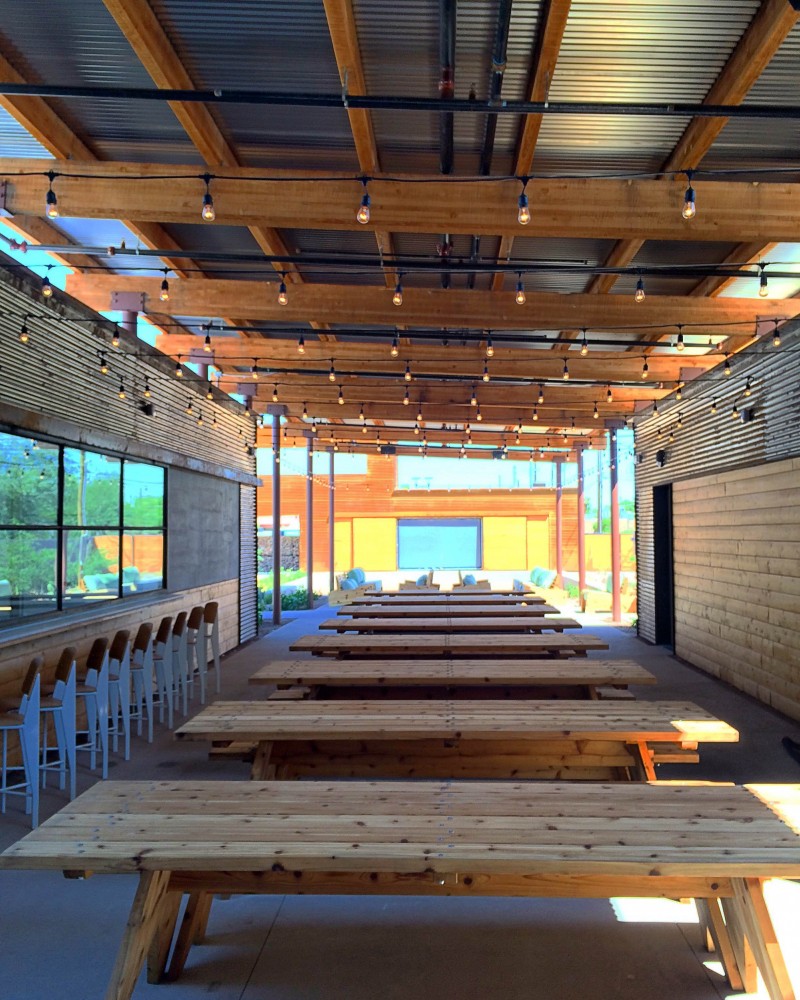 The picture Johnson paints isn't hard to imagine. The beer garden's eight long wooden community tables are bare – begging to be the center of conversations, craft beer, cocktails, refined American cuisine. Although it's daytime, the light that emits from rows of small glass globes strung from the shade structure above is a subtle suggestion of the ambient warmth they will provide in the evenings, in the absence of the Arizona sun.
At the opposite end of the courtyard, a large projector screen is visible and housed within what resembles a rusted shipping container with sliding wooden doors and a distinctly architectural finish. The screen overlooks a graded section of dusty, desert soil that slopes downward toward the projector screen. Deliberately positioned, this section of earth will soon become Ocotillo's sunken lawn – an inviting space to recline and watch projected movies, or to listen to live music – just remove the projector screen and the space becomes a stage.
Beyond the sunken lawn and on the north side of the property, a similar container-like structure stands: the future location of Ocotillo's "O to Go" coffee bar. The space provides early morning crowds a quick and convenient way to grab a coffee, fresh juices, smoothies, boba teas, salads and pastries.
Back in the Ocotillo main restaurant, Johnson steps back from the window and walks toward the large marble-top curved cocktail bar.
"We're tired," he says, the detail of his eyes slightly softened by the smudged lenses of his bold, black, stylish glasses.
"We've been going like crazy," he says. "But we're über excited."
EXPANSIVE MENU & DESIGN
Walter Sterling, chef at Ocotillo, originally purchased the property three years ago. With many years under his belt as fine dining chef and restaurant consultant, Sterling is known throughout Phoenix. Sol y Sambra, Oakville Grocery and Mary Elaine's at the Phoenician Resort, are just some of the Valley restaurants on his resume. At Ocotillo, Sterling will be joined by co-chef and longtime colleague, Sacha Levine of Scottsdale's FnB and Rancho Pinot, for a menu of New American cuisine including healthy, vegan and gluten-free options.
Despite its near one-acre footprint at the southeast corner of 3rd Street and Flower in central Phoenix, the Ocotillo compound could be easily overlooked while driving through this unassuming Phoenix neighborhood. Softened by the use of desert landscaping and trees, both the exterior and interior spaces exemplify modern architectural pursuit: Simplicity in design, linear lines, and innovative floor plans blending indoor and outdoor use.
With an 'elevated' menu almost as expansive as the property itself, diversity in flavors and pricing is key to Ocotillo's strategy.
Aiming to have "something for everyone" the menu includes salads, vegetable plates, small appetizers, sandwiches; large entrees and roasted chicken. Ocotillo also wants to be the premier brunch spot in Arizona. Brunch-goers can look forward to items such as gluten-free blue corn pancakes, ruby red grapefruit brulee, a breakfast chimichanga, as well as lighter salads.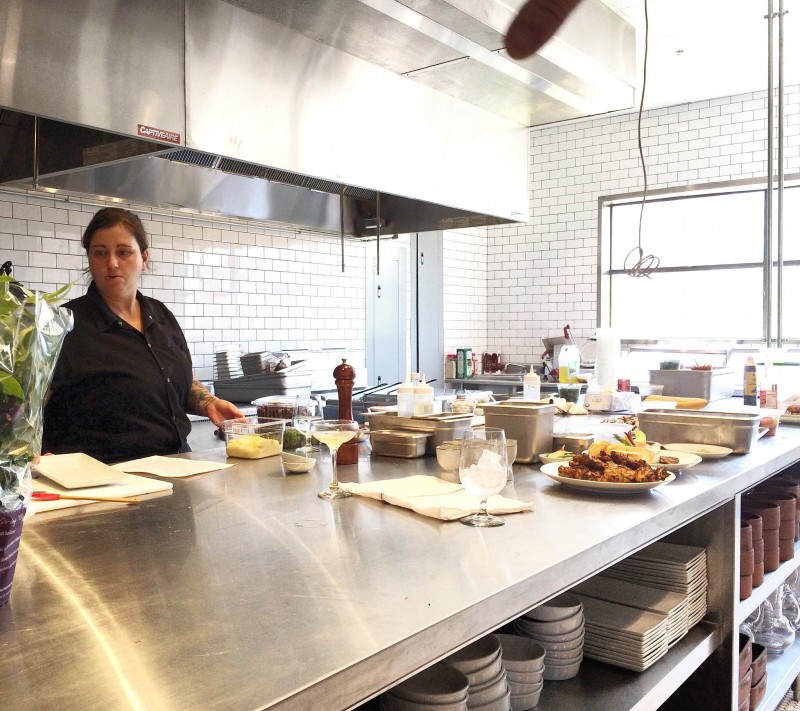 If the menu at Ocotillo Restaurant and Bar seems straightforward, that's because it is. But much like the modern architecture by which it is surrounded, the both the wine and food menus at Ocotillo are – by design – deceptively simple.
But don't be mistaken: Ocotillo is not fine dining. It's refined dining.
"I try and take really high quality ingredients, cook them really well and serve them very simple," says Ocotillo co-chef Walter Sterling.
"There's a lot of technique behind our food, but it's not described with technique or presented in a super fancy way," Sterling says. And despite having almost complete decision-making power for the first time in his career, Sterling says the menu is not about him.
"I try to cook for the customers," Sterling says.
THE FAMILY
Saying he hires on "personality and skillset" not on "expert" knowledge, Johnson glows with pride when discussing the team he has built.
"I've got the coolest staff," Johnson says. "I've been handpicking for months."
The Ocotillo tribe includes, among others, bar manager Geoffrey Wilson, and barista Kelly Ehley, who will be serving San Francisco's Sightglass Coffee and overseeing the operations of "O to Go."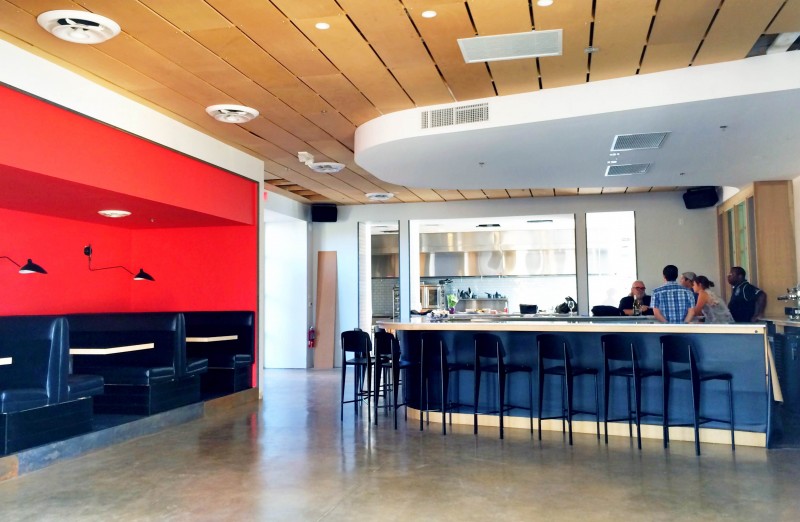 There is one person, however, that Johnson's pretty thrilled to be working with.
Sacha Levine will co-chef Ocotillo with Sterling and has worked with both Sterling and Johnson at various points in her career. It was at Atlas Bistro that she first started working with Johnson. Although that was more than 10 years ago, Johnson remembers it well.
"I'm like the proud uncle," Johnson says. "I've worked with Sacha since she was 19 and now she's 30."
"It means more that way," Jonhson adds. "Because it's like family."
THE FUTURE
Ocotillo Restaurant and Bar is scheduled to open at the end of September. Johnson and Sterling are excited. The rest of Phoenix should be too. With the increasing number of housing projects and coming to central and downtown Phoenix, such as The Edison and Portland On the Park, more and more people are searching for new places to eat, drink and socialize.
There is no other project in central Phoenix are quite like Ocotillo. With its refined menu and innovative compound design centered on fostering the growing urban core of downtown Phoenix, Ocotillo is both a unique and extremely welcome addition.
According to Johnson, Phoenix is "pushing the boundaries" and is just as worthy to be doing the innovative projects that can be seen in the nation's other top culinary cities.
"There's the same old played-out excuse, 'Oh, this flies in San Diego in the Gas Lamp or Santa Monica, but not in Phoenix,'" Johnson says.
"(Ocotillo) will show people that, 'Yes, you can do that in Phoenix."
IF YOU GO
Ocotillo – Opening the end of September 2015
3243 N 3rd St, Phoenix, AZ 85012
(480) 390-7794
Lunch / M-F 11 a.m. – 4 p.m.
Brunch / Sat & Sun 10 a.m. – 4 p.m.
O to Go / Everyday 7 a.m. – 3 p.m.
Dinner / Coming Soon.
Images by Lauren Potter
---