David Krietor, CEO of Downtown Phoenix, Inc., offers his take on MovePHX – Prop 104, the ballot initiative that proposes a comprehensive transportation plan for Phoenix.
Traveling from Tempe into Downtown Phoenix last week I counted nine large construction cranes. A number of factors are contributing to this urban building boom. One of the most important is that more people—across the nation and around the globe—want to live, work, go to school and play near public transportation. This makes passage of Proposition 104 in Phoenix critical to our future as a vibrant urban city.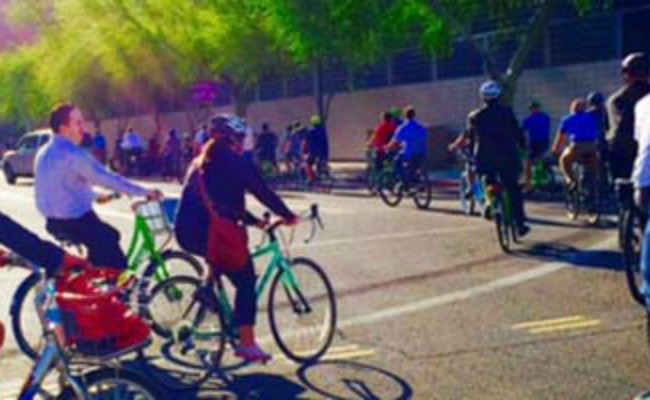 While suburban Phoenix is dependent on the vast public investment in freeways, urban Phoenix is thriving because of the multitude of transportation options. Many residents in urban Phoenix can go to work, attend a major sporting event or festival and fly anywhere in the world without opening the door to their car. How cool is that!
More and more people are referring to Downtown Phoenix as having a great emerging "vibe." I tend to view it more in the context of building an increasingly connected community where business leaders, artists, students and people of multiple generations and ethnic backgrounds live and work side by side. Committing to a well-balanced transportation system by supporting Proposition 104 is good for everyone who cares about having a vibrant city. It maintains our streets, creates bike lanes, and supports our bus and light rail systems. Please consider supporting it in next month's election.
How does MovePHX propose to improve Phoenix's transportation infrastructure? Here are a few of the included items:
Cars
Up to $240 million to fund new roads and upgraded bridges
2,000 new street lights will be added throughout Phoenix
Pedestrians
Paving for 135 miles of new sidewalks
Improved connections between major commercial and employment destinations in downtown Phoenix
Bikes
1,080 miles of new bike lanes throughout Phoenix
Improved bike infrastructure and deliberate planning to improve the bikability of Phoenix
Light Rail
MovePHX will triple the number of miles covered by light rail
The light rail has generated more than $7 billion in economic development activities along the light rail and MovePHX is expected to spur an additional $40 million in economic development along the light rail lines
Bus
Local bus service with extended hours on weekdays, weekends and holidays
Upgraded facilities and technology, included shaded bus stops, customer service technology upgrades and accessibility upgrades
---