DPJ's Wire series delivers news and information straight from the source without translation.
First annual World Refugee Day benefit concert will feature live music, refreshments and opportunity to learn the stories of refugees living in Phoenix.
Concert will commemorate the courage and resilience of refugees, with all proceeds going to an emergency fund for refugees in crisis.
On Saturday, June 20 the International Rescue Committee in Phoenix will mark its first annual World Refugee Day benefit concert, honoring the strength and resilience of refugees forced to flee their homes and seek sanctuary elsewhere.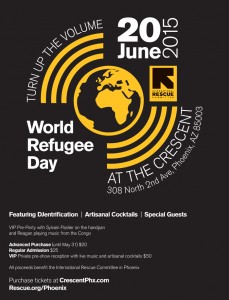 Held at the Crescent Ballroom in downtown Phoenix, guests will have the opportunity to listen to live music performed by refugees from Malawi and Zimbabwe, enjoy a signature cocktail made with fruits grown by refugee farmers and meet refugees from around the world now making a new life for themselves and their families in Phoenix. Admission to the concert is $25 per person and 100 percent of the proceeds go to an emergency fund for resettled refugees in crisis.
"Through this event we hope to raise awareness and turn up the volume on the rich diversity refugees bring to Phoenix and the work done at the IRC," said Nicky Walker, development manager for the International Rescue Committee in Phoenix. "The IRC cannot function without the help from all of our generous partners and volunteers. Nevertheless, because the U.S. is the largest welcoming nation for refugees, the work is continuous and the challenge is ongoing. We hope this event will connect new volunteers and partners to help make refugees' transition easier."
World Refugee Day is held every year on June 20 to honor the courage, strength and determination of women, men and children who are forced to flee their homeland under threat of persecution, conflict and violence.  Escaping with their lives and few possessions, refugees who are resettled into the United States — a small percentage of the more than 51 million people forcibly displaced around the world — arrive with dreams of hope, safety, and stability
In 2013, Arizona received a total of 3,336 new neighbors from 42 countries through the refugee resettlement program, and more than more than 62,000 people from 109 countries have made Arizona their home since the program began in 1980. In 2014, the IRC welcomed more than 837 refugees, and served over 3000 clients through one of the IRC's many programs, including immigration services and programs for survivors of human trafficking. In 2015, the IRC in Phoenix is forecasted to welcome 850 individuals from countries including Somalia, Cuba, Iraq, Iran, Syria, Burma (also known as Myanmar) and the Democratic Republic of Congo.
WHERE: The Crescent Ballroom, 308 N 2nd Ave, Phoenix, AZ 85003
WHEN: Saturday, June 20th. Live music from Refugees begin at 7:00PM during V.I.P. hour, Concert and Story telling at 8:00PM
HOW: CrescentPHX.com or at Stinkweeds on Central and Camelback
ABOUT THE IRC
The International Rescue Committee helps people whose lives and livelihoods are shattered by conflict and disaster to survive, recover, and gain control of their future. IRC teams provide health care, infrastructure, learning and economic support to people in 40 countries, with special programs designed for women and children. Every year, the IRC resettles thousands of refugees in 25 U.S. cities. Learn more at Rescue.org and follow the IRC on Twitter & Facebook.
---