DPJ's Wire series delivers news and information straight from the source without translation.
New Downtown Phoenix Directory Showcases Urban Mural Project 
With a vibrant new cover, co-created by Jose Andres Giron and Carlos Rivas, two resident artists at the Latino Arts and Cultural Center (ALAC), the Downtown Phoenix Directory January-June edition hit the streets just in time for Super Bowl 2015.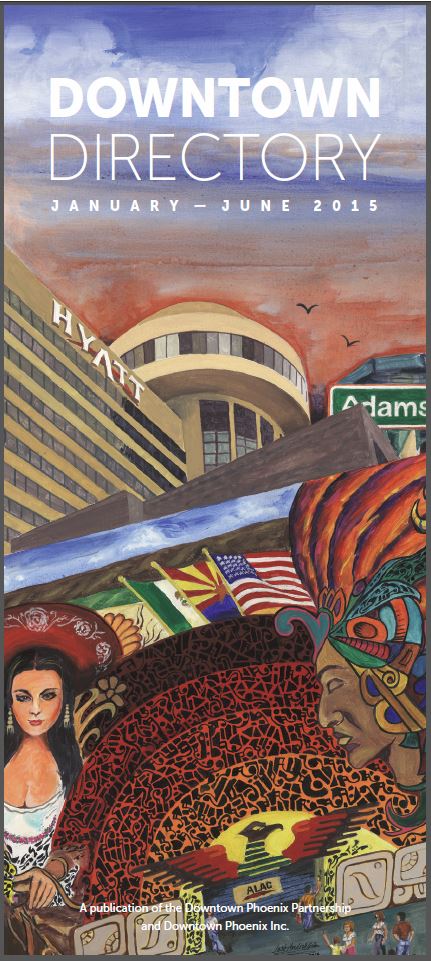 The cover art depicts a mural project in the Paseo de ALAC, the alleyway behind the arts and cultural center located at 147 E. Adams Street. It features a vibrant community gathering place bridging art, culture, tourism and downtown businesses, which is the perfect complement to the restaurant and business guide.
"For ALAC to be represented is a proud moment for us all," said ErLinda Torres, president and CEO of ALAC. "It's urban, it's ethnic, it's contemporary – it really represents the state of Arizona and the people of this city."
With a local artist-designed cover, local photography and more than 400 restaurant and business listings – this edition of the directory really showcases greater downtown's immense growth and diversity.
Andres Giron, the cover designer, grew up in the Golden Gate Barrio of Phoenix and watched the cycles of change in Downtown Phoenix over the last 50 years. According to Giron, the design really celebrates downtown's history and ongoing revitalization.
"I was just trying to tell a story and create a spectacular impression of an otherwise dirty alley by beautifying it," he said. "It's also about encouraging artists to work together and learn from each other."
Eight different artists will be collaborating on the project, including Carlos Rivas, whose signature "shape-shifters" can be seen in the center of the directory cover and in murals around the city.
Individuals see different things in the abstract figures Rivas designs, which is why the interpretation is fluid and shifting. Each unique form is a reflection of the music he listens to, friends and family who inspire him and the vibrant urban landscape around him.
The directory is distributed to businesses, restaurants, visitors and conventioneers throughout downtown. To pick up your copy, just look for a Downtown Phoenix Ambassador, who can always help you find one.
---