DPJ's Wire series delivers news and information straight from the source without translation.
MEETINGS SET ON CITYWIDE TRANSPORTATION PRIORITIES
Residents asked to share feedback on expanded transit service, street improvements
The city of Phoenix Public Transit and Street Transportation departments are hosting open houses around the city to gain resident feedback on priorities for city transportation improvements.
The list of potential improvements was developed by the Citizens Committee on the Future of Phoenix Transportation, a 34-member group appointed by the Phoenix City Council to study and provide recommendations on the development of transit service and street infrastructure.
Since August, the committee has been working to identify priorities based on input garnered at more than 80 events citywide and comments from over 3,000 participants in-person and online.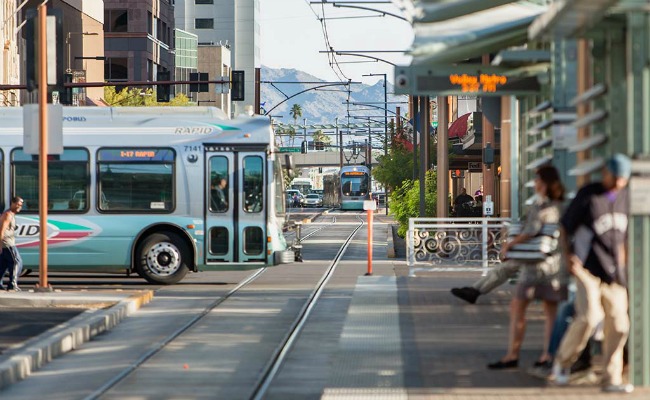 The priorities include:
New local bus service and extensions of light rail throughout the city
Expansion of transit service operating hours into early morning and late night
Funding for street improvements, better shade cover for pedestrians and transit users, and new bicycle infrastructure
In addition to service and infrastructure elements, the city is seeking input on replacing Phoenix's current transit tax with a new transportation tax. Currently, the city's transit system is funded by a 4/10ths of a cent sales tax, originally passed by Phoenix voters in 2000, which is set to expire in 2020. A replacement tax could support both transit and street transportation needs.
Based on public comments gathered on plan elements, a replacement tax could be higher than the current rate.
Open House Schedule
5:30-6:30 p.m. Wednesday, Jan. 14, Sunnyslope Community Center, 802 E. Vogel Ave.
5:30-6:30 p.m. Thursday, Jan. 15, Steele Indian School Park Memorial Hall, 300 E. Indian School Rd.
6-7 p.m. Tuesday, Jan. 20, Desert Sage Library, 7602 W. Encanto Blvd.
2-3 p.m. Wednesday, Jan. 21, Devonshire Senior Center, 2802 E. Devonshire Ave.
7-8 p.m. Thursday, Jan. 22, Goelet Beuf Community Center, 3435 W Pinnacle Peak Rd.
6-7 p.m. Monday, Jan. 26, Paradise Valley Community Center Multi-purpose Room, 17402 N. 40th St.
6-8 p.m. Tuesday, Jan. 27, Washington Activity Center, 2240 W. Cit
rus Way
6-8 p.m. Wednesday, Jan. 28, Pecos Community Center, 17010 S. 48th St
5:30-7 p.m. Thursday, Feb. 5, Emmet McLoughlin Community Training and Education Center, 1150 S. Seventh Ave.
Individuals can get more information or share their priorities by calling 602-262-7242, e-mailing talktransportation@phoenix.gov, or visiting www.talktransportation.org. No RSVP is required to attend.
Images courtesy of the City of Phoenix.
---