DPJ's Wire series delivers news and information straight from the source without translation.
PHOENIX CITY COUNCIL APPROVES PARKLET PROGRAM
The Phoenix City Council voted earlier this month to approve the Phoenix Parklet Program. Administered through the Planning & Development Department, a parklet is a seating platform that converts two or more curbside parking spaces into vibrant community spaces.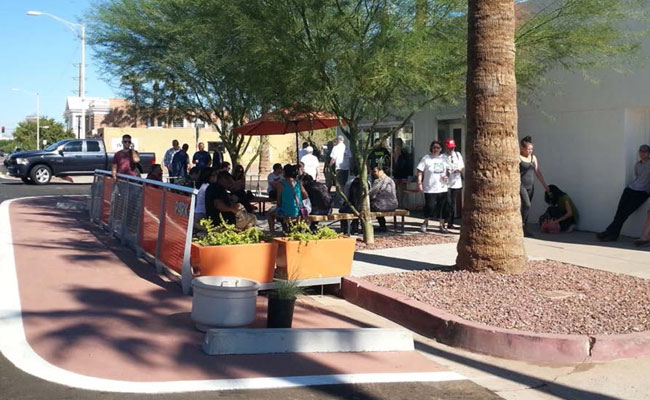 "Parklets are just one more way that we're making city streets and neighborhoods more inviting and accessible, especially for pedestrians," Phoenix Mayor Greg Stanton said. "They also allow businesses to expand their space outdoors."
Parklets will provide green space on city streets to create new seasonal pedestrian spaces that improve the quality of life in Phoenix neighborhoods and commercial corridors, and they help mitigate the urban heat island effect.
"The parklet program is a very exciting addition to our continuously growing and more vibrant downtown," said Councilwoman Kate Gallego, chair of the City Council's Neighborhoods, Housing and Development Subcommittee."With the possibilities opened up by the inauguration of this program, we hope to make downtown an even more exciting, more dynamic place to be."
"We spoke to the community about what they wanted to help make downtown more inviting and friendly, and parklets are a direct result of this feedback," said Councilman Michael Nowakowski. "I want to thank staff and my council colleagues for creating another great tool for activating downtown and helping local restaurants and businesses to make these neighborhoods even more of a destination."
Each parklet can have a distinct, site-specific design that reflects the unique character of the neighborhood. Parklets may be used for seating/space for the public or private seating/space controlled by the business and used for serving food and non-alcoholic beverages. Parklets also can be used as part of a temporary use or special event permit.
Parklet construction is paid for by the applicant and costs will vary. Parklets will be allowed in the Downtown Code Area and along Grand Avenue from Van Buren to Roosevelt streets. Applicants will be encouraged to provide a unique, inviting urban space that attracts pedestrians and enhances the streetscape. They will be required to obtain support from adjacent property owners.
Images courtesy of City of Phoenix.
---