DPJ's Wire series delivers news and information straight from the source without translation.
New 'Super Bowl XLIX Legacy Field' to be Unveiled
ASU Preparatory Academy to Receive Plush Football Field & New Scoreboard at Homecoming Game
WHAT: The Arizona Super Bowl Host Committee in partnership with the NFL Foundation and Arizona Cardinals will unveil a newly refurbished football field and brand new scoreboard for the students, staff and fans at ASU Preparatory Academy during their homecoming game. Before its recent remodel the field was in subpar conditions for the thousands of youth who utilized it for organized sports and intramurals.
ASU Prep Academy was selected to receive this honor due to the need and rich history of the field, which from 1912 to 1982 was the site of the first high school in Phoenix. The Host Committee and its sponsors will proudly unveil the newly named Super Bowl XLIX Legacy Field knowing its place in Arizona history; 25 state championships were won there, as well as, the national championship in 1930.
ASU Prep Academy is an innovative public charter school sponsored by Arizona State University and serves approximately 1,400 students from kindergarten through 12th grade in downtown Phoenix.  In the three years the high school has been open, students have achieved some of the highest academic gains in Arizona and the school received an "A" label from the Arizona Department of Education.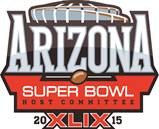 WHO: The following will attend at the ceremonial field and scoreboard dedication:
David Rousseau, Chairman, Arizona Super Bowl Host Committee; Nicole Bidwill, Arizona Cardinals
; Jay Parry, President and CEO, Arizona Super Bowl Host Committee; Arizona Cardinals Players; Arizona Cardinals Cheerleaders; Big Red, Arizona Cardinals Mascot; SPIKE, Arizona Super Bowl Host Committee Mascot
WHERE: ASU Prep Academy located at 735 E. Fillmore St., Phoenix, Arizona 85006
WHEN: September 26th at 6:15pm
Image courtesy of Arizona Super Bowl Host Committee
---