On Thursday, August 28th, some of our city's brightest ideas were presented live during Tedx Evans Churchill, a local edition of the popular TED lecture series, held at the Phoenix Convention Center.
TED talks are public lectures based on the concept of presenting "ideas worth spreading." TEDx events are independently organized talks meant to showcase ideas and stimulate conversation on the local community level.
The theme of TEDx Evans Churchill, "If You Can't Stand the Heat, Get Out of the Kitchen," focused on the many ways that food is a part of Phoenix's cultural and community landscape.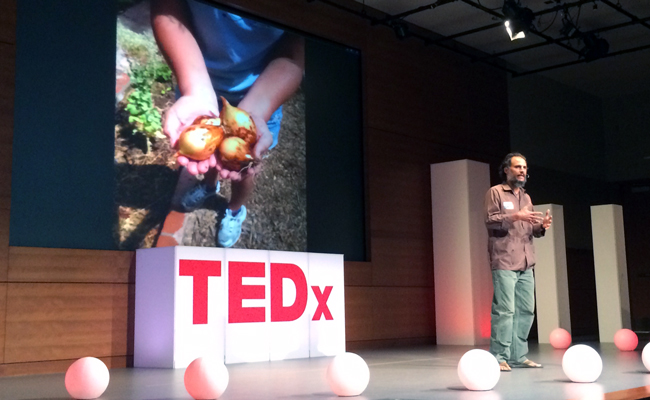 According to event organizer and president of the Evans Churchill Community Association, Kevin Rille, the theme was an obvious choice: "Phoenix's food, on a national scale, is really high quality and getting better, so it felt like a natural fit."
The emcees for the evening were Megan Finnerty of the Arizona Republic and Dave Tyda of Affordable Food Festivals and the EaterAZ food blog. The co-hosts guided a sold-out audience through seven passion-filled presentations from a range of voices from Phoenix's food scene.
Local restauranteurs like Brad Moore of Short Leash Hot Dogs and Aaron Pool of Gadzooks Enchiladas and Soups talked about what it takes to successfully open and operate their respective food trucks and restaurants.
Highlighting the healing properties of food, Kelly Watkins of Juby True juice bar discussed the holistic benefits of juicing, while chef Payton Curry of Brat Haus delivered his case for "weediatrics," or the medicinal use of cannabis.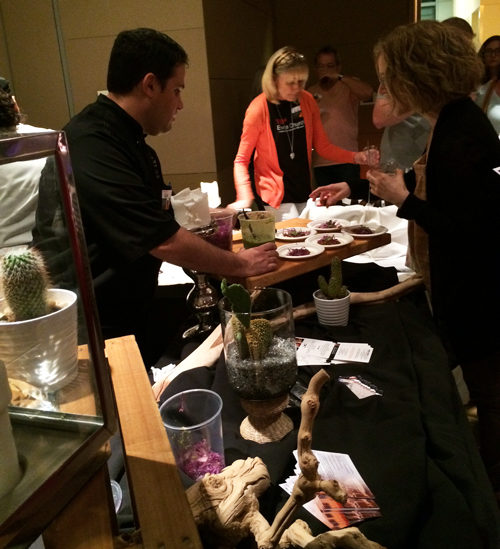 Showing there are many ways that food can sustain a community, Dr. George Brooks, Jr. detailed his initiative to eliminate food deserts in the valley through aquaponics, a farming method that combines raising fish with the growing of plants in water. Johnny Garippa shared the fruits of his labor with Hope House Farms, an urban farming program in downtown Phoenix that teaches youth about farming, food and leadership.
And to wash it all down, Chuck Noll, master of fine beer for Crescent Crown distributors and certified cicerone, took us down the path of his discovery of and love for craft beers.
After an hour of talking about the many ways food permeates Phoenix's culture, attendees were able to sample some of the goods at FED after TED. This portion of the evening featured a collection of the city's best restaurants offering samples of their favorite creations, paired with local and regional craft beers.
The selections ranged from comfort foods to more adventurous fare, but all equally delicious. Some of the offerings included ICON Lounge's braised lamb tongue tacos paired with New Belgium's Tour de Fall pale ale, Squid Ink's seared Japanese scallops paired with San Tan Brewing's SunSpot Golden Ale, Short Leash's brat sliders and mini doughnuts paired with San Tan's Devil's Ale and Kincaid's teriyaki tenderloins paired with New Belgium's Fat Tire amber ale.
Other participating restaurants included the Phoenix Public Market Cafe, 11:30 The Restaurant, Aventura Catering and Canyon Cafe.
With full bellies, hearts and minds, the feeling of inspiration and pride in their city was palpable for attendees. It was clear that Phoenix is a place where great ideas are planted, cultivated and sustained.
Kevin Rille and the Evans Churchill community believe in the importance of amplifying these ideas. Says Rille, "It's doing cool stuff in a simple way. A lot of the national news about Phoenix is really negative, really terrible, but there's a lot of cool stuff going on. It's fun to see all these people engaged and to celebrate that."
With the successful turnout and the buzz surrounding the event, Rille is hopeful it can become a more regular occurrence: "It was cool to see people excited about it even before we did the advertising. People were engaged. Hopefully we can build this into something we do more often."
---