The following release was issued by the city of Phoenix Street Transportation Department.
EXTENDED PARKING METER HOURS COMING AUG. 18
Meters to operate from 8 a.m. – 10 p.m. daily
The city of Phoenix Street Transportation Department is notifying residents, commuters and business owners on changes to parking meter hours of operation, effective Aug. 18.  The changes were adopted by the City Council in June.
Beginning Aug. 18, all parking meters will be enforced from 8 a.m. – 10 p.m., including weekends and holidays. 
The new hours were enacted to increase the turnover of parking spaces in central Phoenix and downtown areas where meters are most often used.
Read the details of downtown's new parking plan
As part of the council action, parking meter rates will also be changing in November of this year.  Under a new demand-based pricing system coming in November, rates at credit card enabled meters can vary from 50 cents to $4 an hour, with higher meter rates reserved for high demand-parking during special events.  Until demand-based pricing is implemented in November, meter rates will remain $1.50 per hour.  For the public's convenience, the city has purchased and installed 598 new single space credit card enabled meters.  With this upgrade approximately 1,500 of the city's parking meters, or 81 percent of citywide maters, will take credit cards.
More information on the proposed parking meter changes is available at the Street Transportation Department website, phoenix.gov/streets/parking-meters.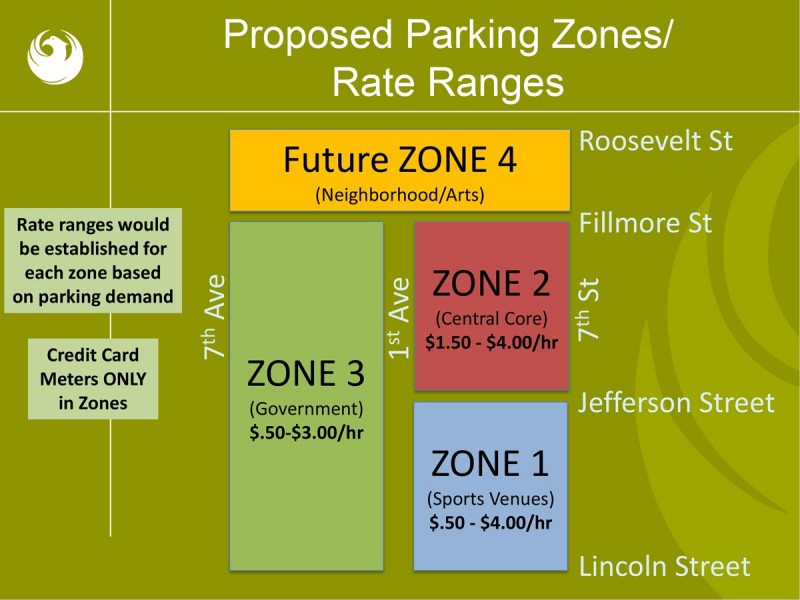 ---