DPJ sat down with Dave Krietor, the CEO of the nascent Downtown Phoenix, Inc., "a community development group created to organize and galvanize Downtown Phoenix," to talk about development issues specific to our evolving downtown.
Krietor's perspective on how Phoenix has evolved is informed by his more than 20 years of service to the City. As Community and Economic Development Director, Aviation Director, Deputy City Manager and Chief of Staff for Mayor Phil Gordon, Mr. Krietor played an integral role in many of the major projects that have changed the face of the downtown core, including construction of Light Rail and Sky Train, Phoenix Convention Center's state-of-the-art facelift, addition of the Phoenix Sheraton Downtown hotel, restoration of the historic Orpheum Theatre, and revitalization of the Roosevelt historic district. And he's proud of the groundwork that was laid in the 80s and 90s.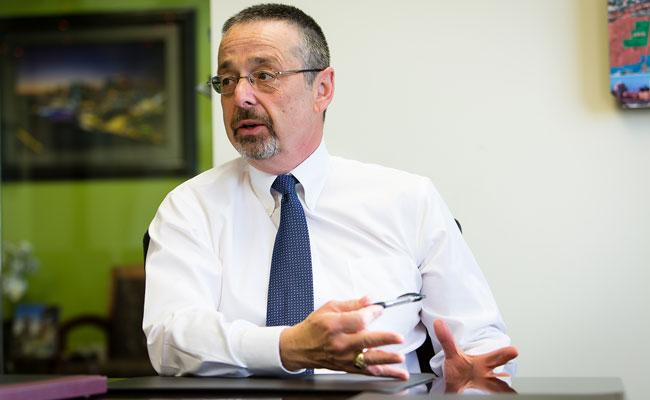 "We bring 7 million visitors to downtown each year between the Suns, the Diamondbacks, the symphony, the opera and more, but now it's about the entrepreneurs and artists that have come in and embraced downtown as their community. We need to support them."
Krietor is of a generation of planners who were taught that downtowns were dead, that once people settled in the suburbs, it would be multi-generational. He admits that the power structure in Phoenix were late to realize how downtowns are evolving. "No one anticipated that millenials and empty nesters would start flooding into downtowns all over and begin emerging as entrepreneurial communities. Now we're all scrambling to develop community."
He noted that the city made a really important decision when they decided to bury the I-10 freeway through downtown. "It was more expensive to do that, but it created an environment in the city where you could stabilize historic neighborhoods." Anyone who's spent any time in downtown Phoenix understands how dynamic and essential the historic districts are to the vitality of the city.
Multi-use and Diverse Needs
As the powers that be play catch up with the evolving nature of downtown, Krietor noted that city planners need to come up with new models. "Anyone involved in city building knows that one of the most devastating things you can do is single use zoning. You don't want to segregate residential and commercial and make it so that you have to drive everywhere, so you have to develop property with different kinds of uses proximate. You can't take a suburban site plan for something and plop it down in an urban environment."
And yet, what is the probable outcome of mixed-use development? Mixed-use naturally leads to mixed opinions, and at the end of the day not embracing the cookie cutter predictability of single-use zoning means learning how to take stakeholders' input into consideration, while working to create a city that thrives and serves a diverse population, with diverse needs.
An example of colliding visions can be seen in recent push back from the community and business leaders to the new Circle K proposal for the corner of 7th St. and Roosevelt. This situation shows just how difficult it is to consider everything that needs to be considered when developing the gateways into downtown.
Not only do people come flooding off of the freeway and pour into downtown from this area, but there is also a well-organized, but fragile residential area immediately adjacent to the proposed site that will be negatively impacted by the proposal. In addition, to feed the connectivity with the rest of downtown, the "impassability" of 7th Street, particularly during rush hour, begs to be ameliorated. All of these factors come together to create a knotty development challenge that takes patience and vision to overcome. It's all part of the process of playing catch up to redefine the downtown as a community. And Krietor acknowledges, "we don't have the solutions yet."
Intersection of Interests
Krietor sees the emergence of Downtown Phoenix, Inc. as a big step in the right direction. "DPI is ultimately a place where established business interests, neighborhood interests, and the city all intersect." It's still in an embryonic stage, but it brings all the stakeholders together at the same table. There will be different perspectives and different agendas represented, but, "the key," said Krietor, "is to work toward compromise and common ground. And when you can't do that, don't carry the disagreement forward into the next issue."
Krietor is developing DPI to be a place where "groups with emerging agendas get the public profile they need with City Hall and established business interests. It's a place where emerging businesses can come together." Krietor sees how important it is for the city to be more engaged at community meetings.
DPI is already having success at building the kinds of bridges that are giving neighborhoods a stronger voice in how our downtown grows. Krietor noted a recent success built on the relationship that DPI has built with the Evans Churchill Community Association. The city was planning to build a new cancer center in the Phoenix Biomedical Campus on Fillmore Ave. and 7th St. and was planning the parking. Because of DPI, the Evans Churchill group was able to point out the glaring walkability problems with the surrounding sidewalks. The City was able to divert funds to help improve the streetscape and improve relations with the neighborhood. It was, as they say, a "win-win."
Downtown Phoenix, Inc. is helping to expand the base of people that will collectively create the best downtown possible. It's early days yet, but the foundation is being laid to truly create "the Phoenix we want."
Photography by Steve Dreiseszun/Viewpoint Photographers
---