DPJ's Wire series delivers news and information straight from the source without translation.
Valley bicycle enthusiasts will turn "Black Friday" into "Green Friday" this year when pre-launch founding memberships for the new Grid Bike Share program go on sale.  A limited number of founding memberships will be available beginning at 12:01 a.m. Friday and can be purchased at GRIDBIKES.COM.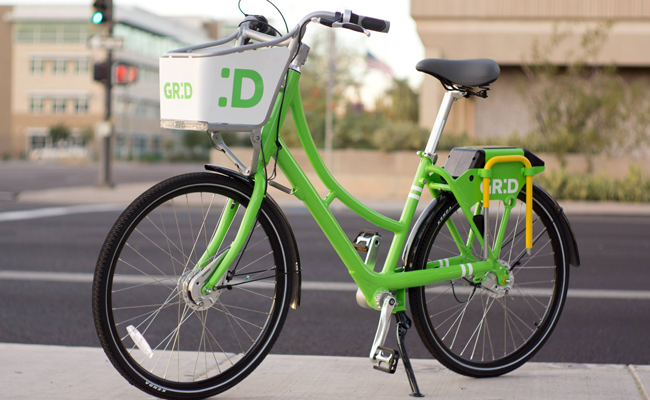 Grid, which is set to launch in Phoenix in early 2014, will consist of a fleet of public bicycles, which are docked at self-service stations in downtown and central Phoenix and near the Metro Light Rail. The program will expand to include Tempe and Mesa in Spring 2014. Grid members or day pass users can locate, reserve and check out the GPS-enabled bikes using the Grid Bikes app, personal computers, kiosks or on the bikes directly.
Grid will sell 1,000 Founding Memberships at $99, and you can purchase a second membership at half off in the same transaction. Founding members will receive a "Griddy Bag" with a Special Founding Member T-shirt, Grid water bottle and sunglasses. Grid members get one hour of free riding time every day that can be used in small increments or all at once. The membership fees will be used to help maintain and operate the Grid Bike Share system.
Longtime Valley bicycle advocate John Romero, Director of Grid Bike Share, said the founding memberships are "a great gift idea."
"While you are out shopping for that perfect gift on Friday, why don't you get yourself and your loved ones a gift that's fun, healthy and environmentally friendly?" Romero said. "There has been a lot of excitement building since we announced the Bike Share program, and now the public can get on board directly by becoming Grid members."
---