After decades away from Arizona, baritone and Grand Canyon University alumnus Mark Delavan returns to the Valley in the title role of Richard Wagner's The Flying Dutchman (Der Fliegende Holländer). Arizona Opera's production continues this weekend at Symphony Hall and closes next Sunday in Tucson.
Starting in 1966, Delavan spent 14 years growing up in Phoenix while his father Macon served as chairman of the music department at then-Grand Canyon College, which gained a stellar reputation under his leadership and that of Mark's mother, fellow professor Marlene Delavan.
"My father and mother brought…the Westminster Choir College school of vocal teaching here," says Delavan, "and we had some amazing choirs. And I had the unique privilege of being…raised on it."
He remembers touring in Europe with one of those choirs at the age of 17. "My opera career probably directly correlated to my Choralaire experience, because we got five days a week of choral training, of vocal training, of assisted vocal pedagogy." Delavan qualifies his description. "It wasn't listed that way, but my father was giving voice lessons all the time. He'd stop and have the bass section go through one thing…a passage…and say, 'Support that! Come on! Put the shout in the voice.'"
He chuckles. "It was my dad, you know? I didn't know what I was getting — I had no idea. It was just Dad. And now that I'm in my 50s and I'm looking back on it…he was pretty gifted." Delavan continues, "But you don't know what you are at 17…nobody knows what they are at 17. So I…went on my merry way."
Delavan played football at Scottsdale Community College — where he says he learned about "ego and team play" — and earned a degree in art with a music minor before singing in his first opera, Gian Carlo Menotti's The Old Maid and the Thief. "This is not his best work," says the singer, "but I had a really cool aria in it, and it's like the bug bit."
After earning a bachelor's degree in music at Oral Roberts University, Delavan worked in Arkansas and North Carolina before continuing on to the now-defunct Western Opera Theater tour and an Adler Fellowship at San Francisco Opera, also placing as a national finalist in the Metropolitan Opera auditions.
Delavan moved to New Jersey in 1990, and, by his own account "kind of crashed and burned" between 1992 and 1993. But thanks to the intervention of great Metropolitan Opera bass Jerome Hines, he says, "I started pulling myself together."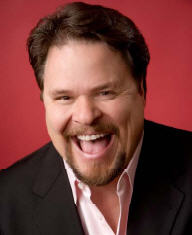 The role of John the Baptist in Hines's opera I Am the Way led to a year of work with New York City Opera and eventually Delavan's Met Opera debut as Amonasro in Aida with an all-star cast of Luciano Pavarotti as Radames, Deborah Voigt as Aida, and Olga Borodina as Amneris. "It was a wrecking crew," Delavan recalls with a smile. "It was like the '90s Chicago Bulls with Michael Jordan — if you get on the court you'd better pass, shoot, or get out of the way."
"And…for all of my faults," he continues emphatically, "when you put that kind of pressure on me, I will go with reckless abandon. And it worked out really well…I worked there for seven seasons in a row." After performances throughout Europe at the Edinburgh Festival, the Bavarian State Opera, the Royal Opera House at Covent Garden, and recently with Deutsche Oper Berlin, Delavan returned to the Met to critical acclaim as Gianciotto in Francesca da Rimini and Wotan in Wagner's epic Ring cycle.
Delavan's signature roles include villains like Otello's Iago and Tosca's Scarpia as well as the title characters in Rigoletto, Falstaff, and The Flying Dutchman, written in 1841 by a 28-year-old Richard Wagner as one of his first mature works. The composer based his libretto and music on the legend of a sea captain who swears to conquer a storm even if he must sail forever. Hearing his oath, the Devil condemns the captain to sail until Judgment Day unless he find a woman who will love him faithfully until death.
In his quest for redemption, the Dutchman is allowed to make landfall once every seven years to find and woo the bride who will break his curse, ultimately ending the perpetual existence of the immortal captain and his crew aboard their ghostly ship.
Wagner, who identified with his tortured hero, emulated Beethoven's symphonies in The Flying Dutchman and used musical motifs so effectively memorable that scholars have compared them to advertising jingles — the famously popular "Spinning Chorus" and the Dutchman's theme are two examples.
"It's one of his earliest pieces, and he wrote it in the Italian style," says Delavan. "You have set pieces, you have duets…you have repeated words." He continues, "Now admittedly the Dutchman's monologue is a piece of genius writing." Delavan sings a bit of the motif, and compares it to a theme from Wagner's later opera Götterdämmerung. "Both of them are very eerie."
"And it's very short," the baritone adds with a chuckle. "The duration [of Dutchman] is just right under the pain threshold." Wagner's later operas are renowned for lengths greater than five hours, a challenging proposition for audiences and singers alike.
"But here's what it has in common [with Wagner's other works]," Delavan says. "It has a mythological theme and…redemption. And one could make the argument that poor Richard [Wagner] desperately needed redemption of some kind, because he was one tortured soul." He laughs. "I mean, it's common knowledge."
The singer overcame his own struggles with this opera when he learned it years ago. "The first role that I did after my father died in 1995 was my first Flying Dutchman," Delavan says, "and I've got to tell you — I couldn't remember 'come to Jesus.'" He continues, "Memorizing this role was the equivalent of trying to memorize…all of Shakespeare's pieces. It was impossible…I had no ability to retain anything."
He recalls a particularly difficult section of text, which translates as "Could you possibly be moved by my suffering with this deep pity?"
"That line I think I memorized ten times until it finally stayed. So that line…I go by it — I kind of close my eyes and move on."
The Flying Dutchman is sung in German, with English supertitles projected above the stage. Arizona Opera revisits the large-scale projection techniques used in last season's Il Trovatore to augment the production's scenery and otherworldly atmosphere. Brought out of the pit and arranged onstage behind a scrim, the orchestra shares the majority of the space with the chorus. The main cast performs in a small area downstage on the raised floor of the orchestra pit, near the audience.
Delavan cheerfully anticipates better reviews for these performances than one he recalls from his last appearance with Arizona Opera, as Escamillo in 1989's Carmen. "I got the worst review of my entire career in The Arizona Republic, and I probably had it coming, truthfully," he says with a self-deprecating laugh. "Painful."
For this production, Delavan shares the stage with soprano Lori Phillips as Senta, the heroine who redeems him, and bass Raymond Aceto as her father Daland. Joseph Rescigno conducts, and Bernard Uzan is the director.
If you go:
The Flying Dutchman (Der Fliegende Holländer) by Richard Wagner
Arizona Opera performs at Symphony Hall through Sunday, November 17
Click here for tickets, or purchase at the door
---