DPJ's Wire series delivers news and information straight from the source without translation.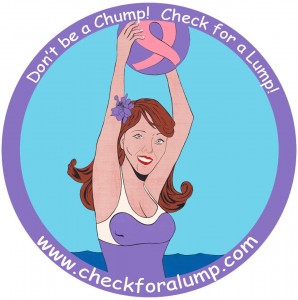 It's that time of year again! 
Don't be a Chump! Check for a Lump
! is holding its 4th Annual Fall Fling on Saturday, November 9th from 6:00 – 9:00 p.m. at a historic home located downtown in the Roosevelt District.
Don't be a Chump! Check for a Lump! is a local non-profit founded by Phoenix native, Holly Rose.  In 2009, Holly was reminded by a friend to perform a breast self-exam, and found a cancerous lump.  She was fortunate to have found her cancer in its early stages, and through surgery, chemotherapy and radiation treatments, she was able to save her breasts and her life.  When she completed treatment, Holly founded Don't be a Chump! Check for a Lump! to encourage other women to perform breast self-exams.
Don't be a Chump! Check for a Lump! has a variety of programs, encouraging women and men to perform regular self-exams, bringing awareness to breast health issues and educating people regarding breast health and breast cancer prevention.  Through its Wig Out! Program, the foundation provides free custom wigs to breast cancer patients undergoing chemotherapy in Arizona.  Downtowners might remember the Don't be a Chump! Check for a Lump! 2011 Flash Mob at the 2011 Herberger Festival of the Arts or last year's Fiesta Bowl Parade.
For more information about their programs, check out the website or Facebook page.
The Fall Fling is a fun, festive "house party" event, with fifteen vendors displaying their unique, handmade products, including jewelry, candles, clothing, and art.  There will also be live music from The Larva Brothers, complimentary wine/beer, and a food truck!  This year's vendors include: Nina & Grapey, Mer*Made Jewelry, Urban Adornments, White Light Candles, Athen's Lotions & Potions, Black Moon Studios, Elizabeth Seer Tarot, The Underground Faction, Hip Veggies, Dos Fannies, Dayna Hall Designs, Think Positive Apparel, Juju's Tutus, Pages Natura, Stealth Tunes, Beauty Counter, Divine Weddings and Kool Kat Kuffs.
The event will be in a 90 year old Craftsman style home in the Roosevelt Historic District of Downtown Phoenix, the evening after the Roosevelt neighborhood's "TourFest" home tour and the Certified Local Festival.
If You Go:
When: Saturday, November 9, 6:00 – 9:00 p.m.
Where: 528 W. Lynwood, Phoenix, Az. 85003
Cost: $10 Suggested donation at the door
---