Friday, September 13th will mark one year since husband and wife team Mat and Sharry Englehorn opened Angels Trumpet Ale House, their bastion of craft beer in downtown Phoenix.
Nestled in the Roosevelt Row arts district, Angels Trumpet boasts 31 continuously rotating beer taps, along with wines on tap, a delicious menu of high class pub fare and a stunning view of downtown Phoenix from their back patio. Not surprisingly, it's quickly become a favorite spot for beer enthusiasts in downtown and beyond.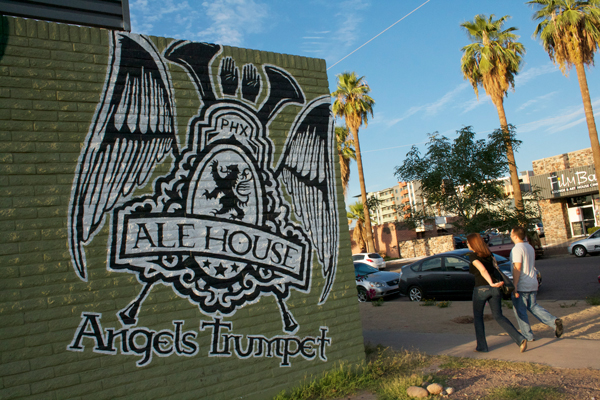 The Englehorns' background is in real estate and property management and the building that houses Angels was previously their office, but after nearly a decade of visiting great beer bars in other cities, they decided to take the leap in the name of contributing to Phoenix's own beer scene. It didn't take long for these self-professed beer geeks to learned just how thirsty other valley residents were for good craft beer.
They are grateful for the success that has come in their first year and note that being a part of the downtown Phoenix scene has been a big piece of that.
Though they already had the building, they wouldn't have opened there if they didn't think downtown was the right place. "Downtown Phoenix as a whole has been amazing and I think we're continuously surprised by the neighborhood, the sense of community. There's a lot of pride in this area."
They've received a lot of support from local neighborhood folks, but craft beer has also proven to be a siren song for people from other areas of the valley, drawing them to downtown Phoenix for the unique selection they provide.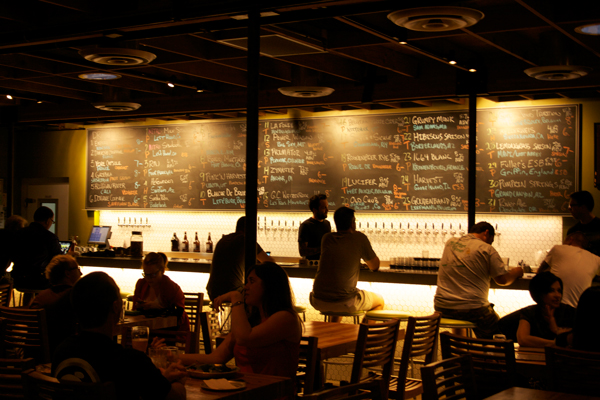 So what has it taken to keep a place like Angels floating along through its first year? According to Mat and Sharry it took hard work, little sleep, plenty of passion and oh yes, beer – a lot of beer.
Of course, all the blood, sweat and beers they've invested in building up Angels have been worth it. For them, it's all about adding to the scene, citing other favorite local craft beer bars like Papago Brewery in Scottsdale. "Hopefully we keep growing a beer-centric community where people just continuously go to different craft beer houses," says Sharry.
Another high point for Angels over the past year was being approached to launch the Taphunter mobile app in Phoenix. The app allows you to see what's on tap at Angel's and at bars around the country at any time or to search for your favorite beers.
So how do you properly celebrate one year of pouring great craft beers? You give the people what they want: great craft beer! Throughout the past year, Angels has been saving up special, one-off kegs, specifically to be tapped for their anniversary.
Beginning at 11am on Friday the 13th, they'll be tapping their special cache of kegs and will continue as long as the supply lasts. Expect a wide variety of beers, from a barrel aged Old Rasputin to rarities from Belgium, Italy, and Iceland to specialty brews from favorites like New Belgium, Oskar Blues and Odells – and of course plenty of the usual suspects.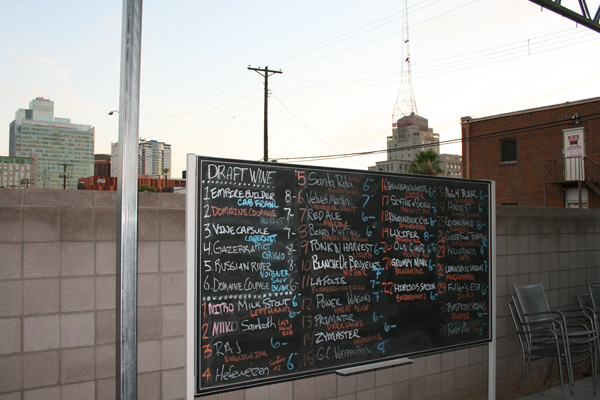 As an added bonus, they'll also offer limited edition stainless steel anniversary pint glasses for $12. The first 100 of the glasses will be released at noon on Friday and another 100 will be available later that day at 5pm.
According to Mat and Sharry, the anniversary celebration is all about the beer and about thanking those who have helped them get to this point. Essentially, it is a toast to their supporters, as they put it "here are more great beers for you guys, thank you for supporting us and we hope you continue. We'll try to continue our march towards great craft beer."
Cheers to that!
Photography by Victor Cosme
---