The McDowell Mountain Music Festival rolls into downtown Phoenix March 22, 23 and 24, bringing together music, arts, food and fun. Here are the top five reasons we're stoked to have this locally grown event happening in our own backyard!
1. LOCATION, LOCATION, LOCATION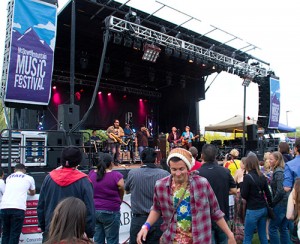 After nearly a decade in North Scottsdale, the annual music festival is heading south to a new downtown Phoenix address. Margaret T. Hance Park will play host to the event, which will include two stages of both national and local music acts, arts & crafts vendors, food trucks, camping, kids activities and a whole lot more.
John Largay, festival founder and president of Wespac Construction, the organization behind the McDowell Mountain Music Festival, felt there were a number of good reasons to relocate the event.
Largay saw a natural partnership between the MMMF, the Roosevelt district and the City of Phoenix, with their shared goal of bringing arts and culture to the community. Says Largay, "I think it's something that (we) can build around. So if we're there to support community and culture, which is really our primary mission . . . I think we picked a good location and I think we picked a good partner in the City of Phoenix."
He also liked the amenities that downtown Phoenix had to offer. "I love Hance Park. It's a great fit for what we're doing," says Largay,"and from a convenience and logistics, access side, both from a light rail and parking standpoint, it's very easy for a lot of people to get to."
2. A ROCKIN' LINE-UP
With national headliners like The Roots, The Shins and Edward Sharpe and the Magnetic Zeroes and a great collection of local artists, this year's MMMF line-up should have something for just about every music fan – which is exactly what the organizers are going for.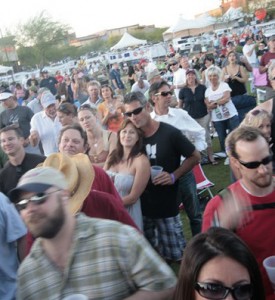 "We think music is universal," says Largay, "that's a universal language that speaks to a 10-year-old the same as it speaks to an 80-year-old, so we try to diversify our genres to make sure there's some entertainment factor for everybody."
Largay is especially proud that the line-up includes a number of critically acclaimed bands that haven't stopped in Phoenix for a while, like The Shins and The Umphrey's McGee.
3. SWEET CHARITY
As if a great location and a great line-up weren't enough, the McDowell Mountain Music Festival is essentially a charity event, donating 100% of its proceeds to local nonprofits.
According to Largay, it's been that way since the beginning. The festival started ten years ago as a charity project organized by Wespac employees and their friends and family and has continued to build on that mission ever since.
This year, all of the funds will be donated to three local charities: Phoenix Children's Hospital, UMOM New Day Centers and Ear Candy Music Charity. Since its inception, the festival has given over $700,000 back to the community.
4. FREE YOGA
You'll be able to prepare your mind, body and soul for a day of awesome music with a free yoga class from Sutra Midtown Yoga, one of downtown's coolest studios.
According to Sutra co-owner Matthew Fritz, they will offer a free all-levels Vinyasa class on the Saturday and Sunday mornings of the festival, complete with a live dj. The class will take place inside the festival grounds on the local stage from 10am-11am both days.
The class is open to anyone who'd like to attend, whether you have a ticket to the festival or not. If you don't have a ticket, but decide you'd like to stick around, yoga participants can buy tickets at the gate for a discounted rate of $45 with their Sutra wristband. That's a win-win for the mind, body, soul and wallet!
Learn more here: http://sutramidtown.com/events#mmmf
5. JUST ABOUT EVERYTHING ELSE
It may sound like a copout, but it's true: from the afterhours shows at The Crescent Ballroom, to camping at the festival, to the vast array of delicious eats and drinks to choose from – there are countless reasons to be excited about this year's McDowell Mountain Music Festival.
Most of all, we are thrilled that it will bring together a community of music and culture lovers for a great time and a great cause. And it's all happening right in our fantastic downtown.
If You Go
What: McDowell Mountain Music Festival
Where: Margaret T. Hance Park – 200 E. Moreland St.
When:
March 22: doors 4 p.m./show 5 p.m.
March 23: doors 11 a.m./show 12 p.m.
March 24: doors 11 a.m./show 12 p.m.
Tickets: http://mmmf.ticketfly.com/
Photos provided by McDowell Mountain Music Festival
---