Phoen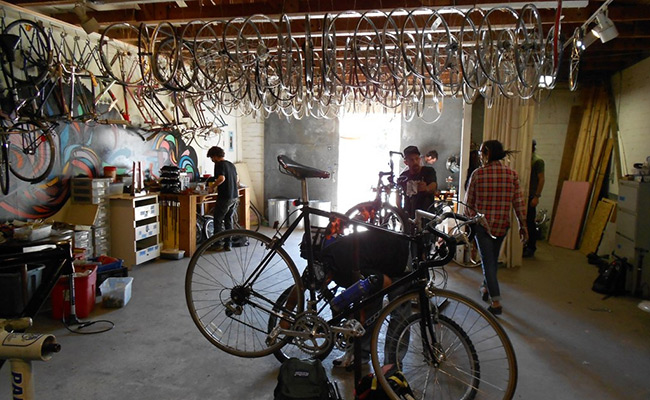 ix isn't an easy city for pedestrians. The buses run behind schedule, everything is spread out and in the summer it gets so hot that walking outside seems like suicidal behavior.
And while the deck may be stacked against them (for now), there are some groups in the Valley working towards making Phoenicians embrace a car-free lifestyle. Like the Rusty Spoke Community Bicycle Collective (located on 1023 Grand Ave), a bicycle advocacy group that operates their own D.I.Y. space for bicycle repairs.
And during tomorrow's Grand Ave Festival, the Rusty Spoke will be holding an art auction to benefit the space (with the items going on view at 11 a.m. and final bids called at 9 p.m.).
"We have art from many different mediums: painting, photography, sculpture, crafts, furniture," said Rusty Spoke member Crystal Nesfield-Barolli. "Some of the art is bike-themed…all of it has been donated by local artists."
There will be beverages, screenprinting and movies showing at the Rusty Spoke throughout the event. In addition to being a D.I.Y. bike space, the Rusty Spoke also hosts concerts, workshops (including an anti-racism workshop happening on Oct. 22), dance parties and presentations by activist groups. For more information about their community events, check rustyspoke.org.
---