It's possible that you are at work reading this. Perhaps you are in an office thinking about getting away for a beer.
One evening over beers, Mat and Sharry Engelhorn decided to turn Mat's real estate office of 15 years into Angels Trumpet Ale House – a 31 tap craft beer haven on 2nd Street south of Roosevelt in the Evans Churchill neighborhood. I had an opportunity to visit before the official opening. Here is what I learned.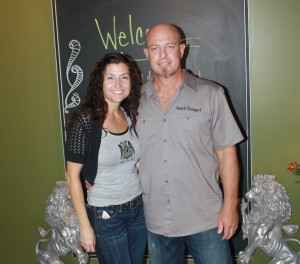 It took two years of planning and hard work to renovate the 3000 square foot 1970's pillbox bunker of unassuming slump block. Its southern and eastern exterior still retain the original look. There is no sign and, according to Mat, there may never be a sign.
The north entrance, with its re-purposed metal WWII era aircraft runway panels, modern windows and original door, signals something new awaits.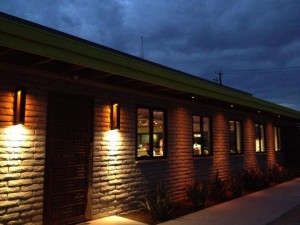 Inside you'll find an open, bright and relaxing space with cool white tiles, punchy spring green paint and warm blond wood.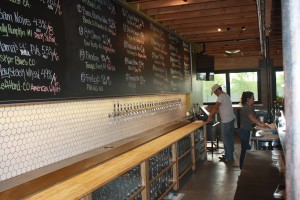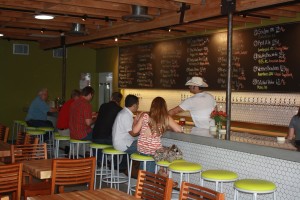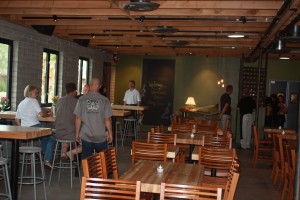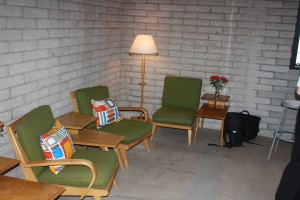 As I stared at the chalkboard of tap beers (there are six wines as well) I asked Sharry and Mat what beer style they were most excited about bringing to Downtown Phoenix. Mat enthusiastically said Sour Ales. Sharry, who is also a Sour fan, said she is looking forward to introducing neighbors to Saisons.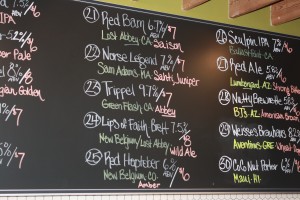 Angels Trumpet currently has these beers that fit the bill:
Sour / Wild Ale Profile
Lindemans Pomme
Dogfish Head Festina Peche
Jolly Pumpkin Bam Noire
Lips of Faith/Lost Abbey Collaboration Brett Beer
Saison
Lost Abbey Red Barn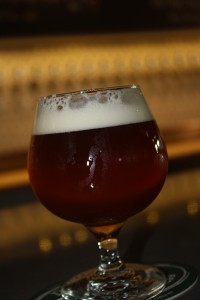 I opted for a Bam Noir. Andy Hartwick of World Class Beverages offered to split the Blue Cheese and Grilled Red Onion Quesadilla he ordered. It came with Prosciutto and Crema Mexicana. It was a wonderful combination of sour, salt and rich flavors – the acid in the beer cleansing the palate.
There were some other interesting dishes on the menu that I hope to try soon. Among them, the Tractor which is a flat bread pizza with egg, bacon and Brussels sprouts. Also offered are sweet potato tacos, an avocado grapefruit arugula salad, a lamb pastrami and seasonal pop-tarts.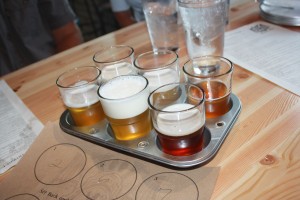 Angels Trumpet boasts a 4000 square-foot patio. As I walked outside, I regained my sense of place and became re-connected with a different Phoenix than I had when I walked through the Ale House door.
Take some time in the next few weeks and take note of the exterior of the building. Spend a few moments at the bar and talk to the Engelhorns. Walk out to the patio. You can see the Westward Ho and the ASU campus buildings.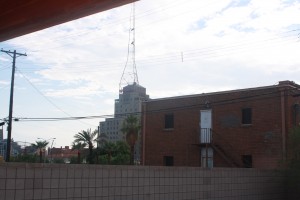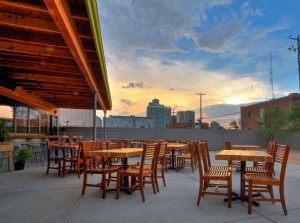 You can see the past, the future.
You literally walk from what Phoenix is into what Phoenix will be. Beer did that.
If you go
Opening Today: Beginning August 23, Angels Trumpet will be open daily from 11 a.m. to 11 p.m.
Address: 810 North 2nd Street, Phoenix, AZ 85004
Contact: Angels Trumpet Ale House (602)-252-2630
---