Urban Phoenix is home to a great group of bike shops, whether you're a newbie looking for a beach cruiser or a seasoned racer looking for that carbon fiber seatpost that will surely guarantee your PR to the South Mountain towers.  Having been in both those categories, and having five bikes hanging in the garage, I knew this assignment was right down my path.
April was Valley Bike Month. Events included the Great Bike Chase that took bikers from Hance park through the streets of downtown to Chase Field to experience a Diamondbacks game, and PedalCraft which brought together bicycles, art, and community to celebrate the city's growing urban bike scene.
The biking euphoria continued straight into May with National Bike Month, which is more appropriate for those states that just recently de-thawed. Though, we're lucky enough to have year-round bikeable weather for commuting, racing and bar-hopping, and it feels like there are more bike riders on the streets of downtown than ever before. Businesses are cluing in that adding bike racks attracts business, ASU's downtown population is growing and downtown-adjacent residents are joining in and leaving the car at home.
We bike locally, why not buy locally?  Local First Arizona acts as a great reminder to source as much of your daily needs as you can from local growers and purveyors.  Local goods are likely to be fresher and feed our local economy.
Think of your local bike shop in the same way.  No, squeezing the seat won't tell you if the bike is ripe, but the local knowledge, customer service and selection are enough reasons to put these four Central Corridor shops on your go-to list.  The common theme in talking to these shop owners and managers was the passion that they have in giving a quality customer service and products to the buyer.  They are all dedicated to the development of a cycling friendly Phoenix.
From south to north, this local line-up of full service cycling shops between 7th and 7th can satisfy all your cycling needs from bikes and accessories to repairs and advice. Honorary mention in this list is State Bicycle Co., a Tempe-grown, urban bike manufacturer, in keeping with the Local First Arizona theme.
130 North Central Avenue #104, Phoenix, AZ  85004
(602) 254-2250
Owner: Palmer Martines
Opened: 2010
Hours: Mon-Fri 11 a.m. – 7 p.m. Sat 11 a.m. – 4 p.m.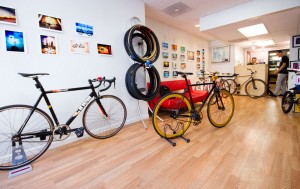 Phx Bike is an urban cycling boutique with a wide variety of bikes ranging from BMX, commuters and fixed gear bikes. This downtown shop is a blend of a traditional cycling shop and art gallery. Bikes and original 35mm photos are displayed with an organized, modern slant. Palmer's detail for design carries forward with custom build options of all price ranges, as well as complete bikes from a diverse supply line. Same day service and proximity to light rail are a draw.
712 West Indian School Rd., Phoenix, AZ 85013
(602) 264-5681
Manager: Tim Furguson
Opened: 1912, 1955 at current location
Hours: Mon-Sat 9 a.m. – 6 p.m. Sun 11 a.m. – 4 p.m.

Since 1912 Landis has grown up with the valley. From its original Central Phoenix location, they have expanded to four shops. The 7th Ave location has adapted to the trends over the years and now specializes in bikes for the whole family, including cruisers, commuters, kids bikes, and great accessories. Don't worry, you're still able to drool over the selection of Lance-worthy road and mountain bikes. Landis also features a unique "Women's Only" section featuring specific bikes, clothing and accessories for the ladies.
4412 North Central Ave., Phoenix, AZ  85013
(602) 263-5143
Owner: Eric Angermeier
Opened: 1999, current location 2010
Hours: Mon-Fri 10 a.m. – 7 p.m. Sat 9 a.m. – 5 p.m. Sun 11 a.m. – 4 p.m.

Slippery Pig Bike Shop has a prime location next to Lux Central, Pane Bianco, and a short walk to a light rail stop.  You've got fuel and transportation and none of it involves a car.  A wide variety of bikes and accessories are found at Slippery Pig with an extensive mountain and road selection.  Eric has been an advocate of 29er mountain bikes since their inception and is a great resource.
5833 North 7th St., Phoenix, AZ 85014
(602) 279-1905
Manager: Joe DeLong
Opened: 1976
Hours: Mon-Fri 9 a.m. – 6 p.m. Sat 9 a.m. – 5 p.m.

Joe keeps an inventory of mountain and road bikes, but the impressive selection of cruiser bikes and accessories make this showroom a destination. If you are looking for something unique like a stretch low-rider, or a cruiser with a built-in cup holder, Sun Cyclery is the place. They also have a great selection of recumbent bikes and trikes, for a more relaxed or stable cycling experience.
2167 E. Cedar St #4, Tempe, AZ 85281
602-341-3349, 855.557.8283

State Bicycle Co. is a Tempe based manufacturer of high quality, stylish, and affordable bicycles. Started in 2009 by three ASU graduates, State Bicycle Co. has quickly grown to offer a single speed/fixed speed bike as well as a fixed gear freestyle bike, which are both gaining a strong urban following.  State Bicycle Co. likes to keep things fresh by running production of their colorways for only 3-6 months before they are retired and new models are introduced.  You don't have to travel to Tempe, PHX Bike and Slippery Pig Bikes carry a selection of these hot urban bikes.
Photography by Jack London
---