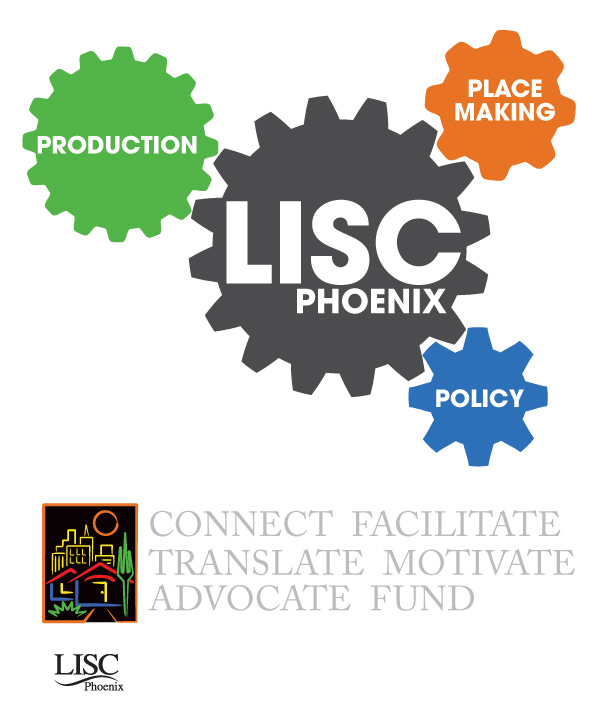 Some news items don't need translation. That's why DPJ launched the From the Wire series, so we could serve the destinations here by posting information and announcements – in their own words.
The Local Initiatives Support Corporation (LISC),  a 30-year-old national intermediary based in New York City, was invited in 1992 to open a Phoenix office.  One million dollars was raised locally by the Phoenix Community Alliance (PCA) and matched by the national LISC office to be used for community development.  20 years later, that investment has exceeded $176.8 million and leveraged an additional $590.6 million, generating almost 6,000 affordable housing units and almost 300,000 sq. ft. of community facility space.
"LISC is proud to bring private funding to the Valley to help take full advantage of the opportunities that are here, including leveraging the public infrastructure investment that brought us the Light Rail," said Teresa Brice, LISC-Phoenix executive director. "LISC's overall mission is to help develop sustainable communities using private funding to make direct investments or to help leverage funding."
Mo Stein, Chairman, commented "PCA is proud to have played a role in bringing a LISC program to Phoenix.  The return on Phoenix's community investment in LISC has far exceeded our expectations!  More important, LISC 's Phoenix Program is more critical today than ever before.  The shifting dynamics of the housing market require LISC's expertise in capacity building and developing partnerships that create quality affordable housing for our community."
PCA will welcome a group of community leaders to celebrate the 20th Anniversary event to a special event, "Community Investment – What is it worth?"  that will speak to how the community has benefited from their initial investment in the LISC Phoenix Program over the years.  The event will take place at the PCA Corporate Office today, April 18th from 4:30 to 6:00 pm.  All parties interested in leveraging community investment are welcome to attend.
About LISC:
 The Local Initiatives Support Corporation (LISC) combines corporate, government and philanthropic resources to help revitalize distressed neighborhoods. LISC also assists in the development of new community opportunities. Now celebrating its 20th anniversary in Phoenix, LISC has brought millions of dollars to the development of sustainable communities. Since its founding in 1992 LISC Phoenix has:
Provided over $176 million in direct investments and
Over one-half billion dollars in leveraged funds which have supported the development of:

Almost 6,000 housing units and
Almost 300,000 square feet of non-residential space
About PCA: Phoenix Community Alliance (PCA) is a 501(c)3 non-profit corporation and a collaboration of over 250 major business corporations allied with government, education, research, health & science, as well as arts & cultural organizations.  The organization, formed in 1983, is the major, private sector catalyst for the urban renaissance in Downtown Phoenix and the Central City.
---