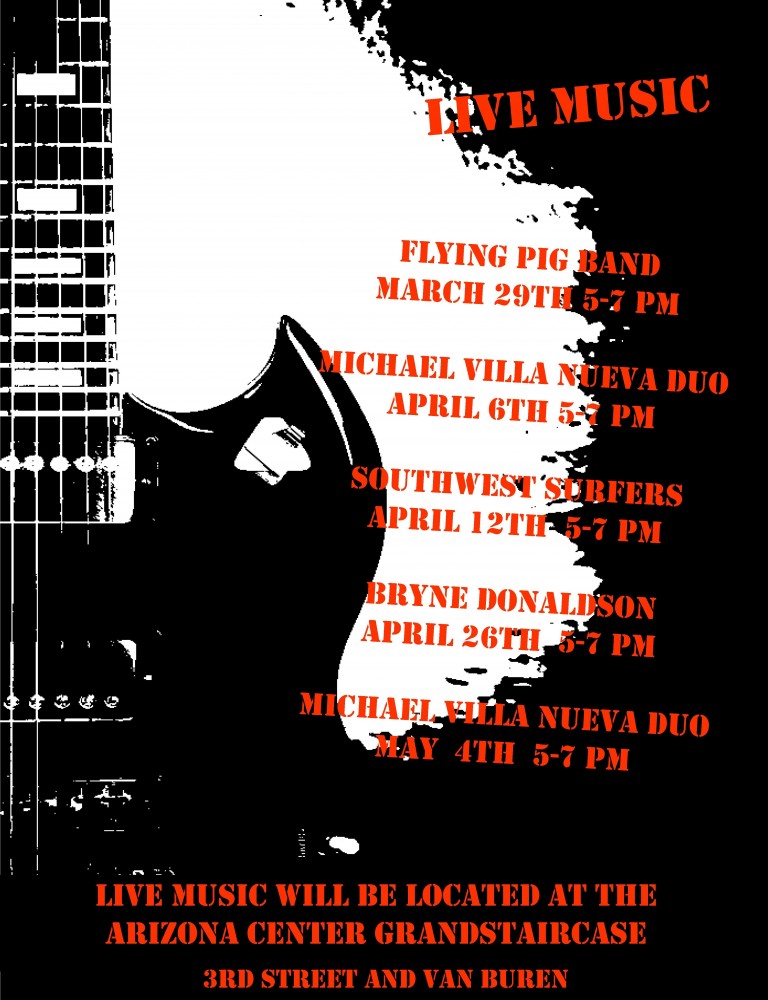 Beginning March 29, The Arizona Center will be host the first of its Live Music Series at the Grand Staircase.
On the first Friday of every month and on alternating Thursdays, downtowners can leisurely bike or wander over to catch the show from 5 to 7 p.m., or suburb-dwellers can come make a night out of it with dinner or happy hour at one of the many restaurants inside the center. (Bonus: Restaurants and stores typically validate up to 2 hours of free parking in the Arizona Center's parking garage.)
Enjoy a different genre each time, from classic rock to jazz, country to covers of classics. Here's the lineup for the series:
•  Flying Pig Band, March 29
•  Michael Villanueva Duo, April 6
•  Southwest Surfers, April 12
•  Bryne Donaldson, April 26
•  Michael Villanueva Duo, May 4
If You Go:
Live Music Series at the Arizona Center
Dates:  First Fridays and every other Thursday from March 29 through May 4.
Time:  5 to 7 p.m.
Where:  The Arizona Center, 400 East Van Buren Street. Downtown Phoenix
Cost:  Free.
Parking: If you shop or dine in one of the businesses in the center, parking may be validated up to 2 hours in the Arizona Center garage. Access the garage from Fillmore St. between 3rd and 4th Streets.
---