Bike Chic is a new DPJ series by Fashion intern, Cortney Kaminski. Each week she will be scouting locals who not only ride their bikes but look dapper doing it.
Who: Billie Speece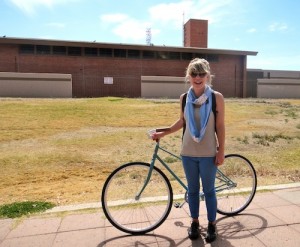 Age: 24
Occupation: Barista at Jobot Coffee
Her Neighborhood: 7th Street and Roosevelt
Where Spotted: Biking around the Phoenix Public Library
What do you enjoy about downtown? I like how small, location wise, it is. I can bike or walk pretty much anywhere.
Where do you like to explore? I like to go to the Phoenix Art Museum on Wednesdays, when it is free. I am also kind of a foodie so I like to eat out at different places.
Why do you use your bike as your mode of transportation? Where we live it is so much faster to get anywhere on my bike than it is to drive since everything is so close.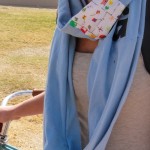 What she's wearing:
•  Urban Outfitters jeans
•  Tank top
•  Scarf made by herself
•  Asics tennis shoes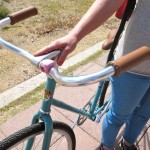 Her biking essentials:
•  Jansport backpack to carry all of her stuff
•  Windsor bicycle on its first journey through the city
---