From his Downtown desk, DPJ Fashion Editor Corbin Chamberlin and his team look beyond the central city and share their views on the people and happenings affecting our Valley's material world.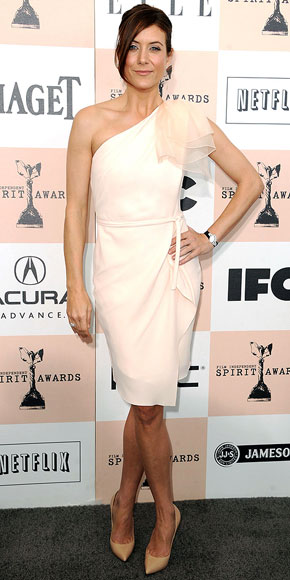 Visions of Italy in the 1950's, convertible rides on the Amalfi coast and a sensation of "old world glamour." That is what ran through the mind of "Grey's Anatomy" and "Private Practice" star Kate Walsh when she first smelled the black jasmine and amber scent a year ago, while producing her first fragrance, Boyfriend. A year later, and with a financially successful perfume under her belt, Kate decided to launch Billionaire Boyfriend.
Before I opened the bottle I was judging the fragrance by its title and, frankly, I had my doubts. Anything titled "billionaire" outside of a Forbes article summons thoughts of tackiness and, let's be honest, the cosmetic industry is littered with failed fragrances by celebrities. Alas, I was taken back by how great the scent actually was; notes of bergamot, tangerine and jasmine made for a sophisticated scent.
I've interviewed many celebrities about their products and I'm normally given the same pre-meditated PR answers to my questions. This was not the case with Kate. She gave very thoughtful replies. Without the help of licensing or royalty companies, the Tucson-raised actress shared with me how she took charge of this personally financed product.
"I wanted to make sure this was really something I wanted out there on the market," she said. "We are a small brand. It's my first priority to make sure this thing did well – grow in a small and strategic way. I see it as a household name."
When asked about the most exciting part of planning her perfume launch, she replied "I was most excited about the marketing of the fragrance, and doing this great experiment by trying to market pretty much solely via internet, doing web commercials and really trying to lead with the idea of storytelling."
Read below my continued conversation with Kate Walsh…
What inspired you to create the new fragrance?
I had this concept of this very luxe, over-the-top fragrance. It all kind of came together as one cohesive idea, in terms of the 'Billionaire Boyfriend.' I was intoxicated with this idea of old world luxury, money and fantasy – Italy in the 1950's and Bond girls. You know, old school luxury. When we were coming up with the original fragrance, the maker brought me this fabulous big floral scent, which was called 'black jasmine and amber.' I told her to hold that, and we would revisit that scent for the second fragrance.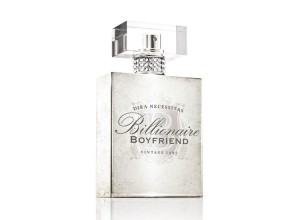 Talk to me about the design of the bottle.
We're re-using the same bottle shape, which is a custom bottle, but were decorating it differently. It's absolutely gorgeous – the design is really exciting. I was in Paris, in the spring, and was inspired by the old Venetian glass at my hotel. I wanted the bottle to have the reflective qualities of that glass.
What's the biggest challenge you've encountered with launching two fragrances?
Gosh, there are so many. I didn't have the safety net of a licensing deal or loyalty deal, so it's all kind of terrifying. I had this idea, and I started a company. There is such a huge risk to whole thing.
There are over 1200 fragrances on the market, and sometimes I thought to myself 'Why am I doing this?' But I felt so passionate about the idea, product and story. I have to say the biggest insecurity is the boring details. You know it's hard working full time on 'Private Practice' and then having to worry about paperwork and details.
Clearly, the first fragrance was a success. Do you agree?
We launched on HSN last November, 2010, and it's selling so well at Sephora. We just finished our biggest month to date. A men's scent on a women's skin, and refining that, we made it something I want to wear everyday. I wanted this to be wearable and accessible to everyone, not just a niche fragrance. We've had great numbers all 2011. This is very exciting to me, because ultimately, if you make something that no one likes, that's devastating.
Perhaps you received some kind of advice from another celebrity-gone-fragrance-maker?
I didn't talk to another celebrity about perfume, but I did talk with Molly Sims – she's lovely. Molly told me about her experience working on HSN. Having her input was really awesome. She and I chatted about starting our own businesses and the challenges of that. I also got a lot of great feedback from my longtime friend, Kate Somerville. She's got such a great skin care line. I've always been a fan of hers – I love her wisdom. Of course, skin care is so much different than fragrance, but I picked her brain about my own line.
Billionaire Boyfriend is available for purchase at HSN.
---