(From the Wire includes press releases received from reliable sources that help tell the story of the many happenings in Greater Downtown Phoenix. Yep, they are ripped from our inbox.)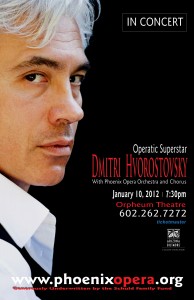 Phoenix Opera is presenting Opera Superstar Dmitri Hvorostovsky at Orpheum Theatre exclusively on January 10, 2012.
World renowned opera superstar, Dmitri Hvorostovsky, an acclaimed baritone and one of People Magazine's 50 most beautiful people, will come to Phoenix for his inaugural visit to perform one night only on January 10, 2012. 
This special Opera Gala concert presented by the Phoenix Opera will feature the Phoenix Opera Orchestra, conducted by John Massaro at the historic Orpheum Theatre in Downtown Phoenix.  Hvorostovsky will be accompanied by Ann Ziff, New York Philanthropist who recently gifted $30 million to the Metropolitan Opera, the largest single gift from an individual in its history.
Phoenix is the proud host to this Russian Operatic Superstar and this once in a lifetime gala concert.  Patrons of all ages are flocking from around the country to attend this event, which also helps to infuse much needed dollars into the local economy.
If You Go
When: One night only, January 10, 2012
Where: Orpheum Theater, Downtown Phoenix
Cost: Ticket prices are $75, $100 and $125.
To Purchase: Tickets are limited, so call the Orpheum Box Office at 602-262-7272 or book through www.ticketmaster.com
---