(From the Wire includes press releases received from reliable sources that help tell the story of the many happenings in Greater Downtown Phoenix. Yep, they are ripped from our inbox.)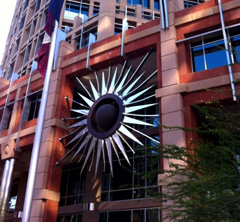 The public is invited to attend an inauguration ceremony for the Mayor and City Council at 10 a.m. today, at the historic Orpheum Theatre, 203 W. Adams St.
Mayor-Elect Greg Stanton and three councilmembers who were re-elected earlier this year – Vice Mayor Thelda Williams, District 1; Bill Gates, District 3; and Michael Nowakowski, District 7 – will take their oaths of office, along with newly elected District 5 Councilman Daniel Valenzuela. Mayor-Elect Stanton will be sworn in by the Honorable Rose Mofford and his wife Nicole Stanton.
Mayor-Elect Stanton will swear in all of the councilmembers, with each of their spouses (Mel Williams, Pam Gates, Sonya Valenzuela and Delia-Ortega Nowakowski) holding a Bible. Mayor Stanton and the councilmembers will give remarks and be presented with an election certificate.
The ceremony also will include the Phoenix Police Department Honor Guard, the Phoenix Fire Department Honor Guard and the Phoenix Police Department Explorer Honor Guard, accompanied by the Phoenix Fire Department Pipes and Drums. Performances will be given by Fiesta Mexicana; the Full Circle Women's Chorus; and Arthur Strong and Roney Jones from Pilgrim Rest Baptist Church. The invocation and benediction will be given by Pastor Raul Ochoa from the Faith Hope Love Community Church. Raven Woessner will sing the National Anthem and Arizona State University student Christian Lira will lead the Pledge of Allegiance. Kathleen Mascareñas is serving as master of ceremonies.
Parking for the general public is available at the following locations (cost will vary): Wells Fargo Bank Plaza Garage or the Renaissance Garage, First Avenue just south of Adams Street; Phoenix City Hall Garage, enter off Fourth Avenue or Jefferson Street; First American Title surface lot, north side of Monroe Street between Second and Third avenues; and parking meters.
Following the event, there will be a reception open to the public in the Phoenix City Hall Atrium, 200 W. Washington St.
If you go
Event: Inauguration Ceremony of City of Phoenix Mayor and City Council
Date: Tuesday, Jan 3, 2012
Time: 10:00 a.m.
Location: Orpheum Theatre, 203 W. Adams St. (map)
---