Guest contributor Catherine Slye shares a little background on a unique boutique event that is now open to the public.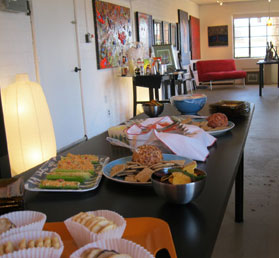 The Phoenix Boutique Owners' Happy Hour grew from a simple but common occurrence. While I was working at MERCANTILE (downtown style shop with vintage women's and men's clothes and accessories), customers would exclaim delightedly that they loved MERCANTILE…did I know of other shops in the area that were similar? Of course I did!  I found I was hand-drawing maps and directions to other independent boutiques for nearly every customer who came in.
I thought there's a need here. Not for another map or directory, because Phoenix already has excellent maps. DPJ prints an outstanding First Friday map, along with the work Local First Arizona and the New Times' Jackalope Ranch blog put into showcasing independent shopping, dining and entertainment. Something different was needed.
What if the shop owners, the people who work at the boutiques, gathered on a regular basis? What if the boutique owners had an opportunity in a personal and informal atmosphere to share their small business best practices and customer lists, to build professional connections and to foster greater collaboration across a similar theme – independently owned boutiques with vintage, handmade, or unique goods – apparel, housewares, furnishings, art.
All of us who work in these fab shops know one thing (among many!) – that the customers who come in our stores WANT to shop in another, and another, and another and we should help them do just that.
From there the first Phoenix Boutique Owners' Happy Hour was born. Host one – attend 11.  Shop owners host one happy hour per year (approximately) and are invited to attend the other boutiques' Happy Hours all year long.
We started in March at MERCANTILE, since then we've had April at Blueberry Deluxe, May at Paris Envy, June at Gallery Hazel, July at Practical Art, August at Antique Sugar & Zinnia's on Melrose Mall, September at a.ware, October at The Roose Spa & Butter Toast Boutique, November at Gallery Hazel and we are finishing out 2011 back at MERCANTILE on Tuesday, December 13.
By August, we decided to open up the invite list to include current and new customers. Monthly happy hours are open to the public.
On deck for 2012 (exact dates TBD), we have January at Modern Cat Studios, February at MADE art boutique, March at Floral Keepsakes, April at Bunky Boutique, and May at Noble Beast Natural Food for Pets.
For more information, contact Catherine at catslye@gmail.com.
If You Go
When: Tuesday, December 13, 6:30 p.m. to 8:30 p.m.
Where: MERCANTILE Vintage, 828 North Central Ave. (map) NOTE: Central is one-way street going north. Access parking lot via alley from McKinley St.
---