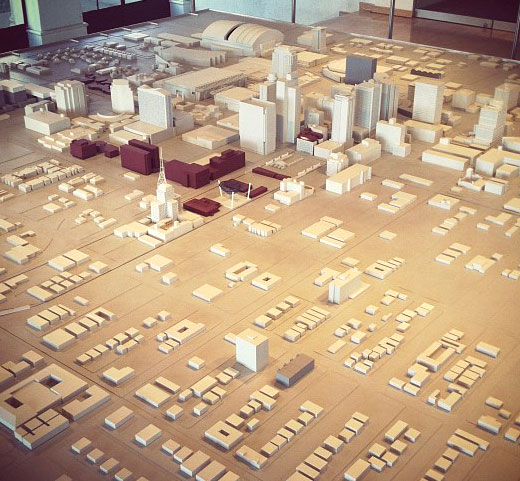 If you've ever found yourself wishing you could enhance the Downtown Phoenix landscape, now's your chance to propose your ideas.
The Phoenix Urban Research Lab at Arizona State University recently announced a call for artists and designers to re-imagine its 20-foot by 20-foot model of Downtown Phoenix, which has been an important tool in discussions about the city's development.
"We want to engage local and national talent to do this, helping us think of new ways to use the model to address the central role of design and place-making in the achievement of sustainable urbanism," PURL's website states.
Assistant Director Aaron Kimberlin says PURL has never done this process before and he is excited to see the ideas people come up with.
"Right now it's a stagnant model that only serves basically one purpose and that's just to show the scale of downtown," he says. "I believe that it should integrate more technology and it should be enhancing the numerous ideas that the city has."
The model, which was built by ASU students, cannot be changed or deconstructed, but additions and improvements can be made. The current model is made up of more than 20 tiles, but the original only had about six to eight tiles.
"It has its constraints, but I think in order to work with those constraints you have to get creative, and that's why we went for an 'all call' of designers and artists," Kimberlin says.
All proposals must be submitted by January 15 and three finalists will be selected on February 15, according to the website.  The public will vote via Facebook and Twitter to determine the finalists, who will each win a $250 prize and whose designs will be featured at the opening reception of PURL's Urban Design Week in April. The three finalists will also meet with PURL staff to discuss the implementation of their projects.
President Michael Crow and Wellington "Duke" Reiter, the former dean of ASU's College of Design, launched PURL in 2005 as a place to conduct research regarding the Phoenix metropolitan area. The program consists of design professionals as well as undergraduate, graduate and doctoral students ranging from urban planning to architecture to landscape architecture.
Kimberlin says PURL, which is located in the 1928 Security Building at Central Avenue and Van Buren Street, has been instrumental in downtown Phoenix planning and was one of the main players in organizing ASU's Downtown Phoenix Campus. The lab also works on ongoing initiatives that acknowledge various issues in the Phoenix metropolitan area by providing innovative solutions to improve the urban environment.
Submission details are here.
---