Green is a cool little place.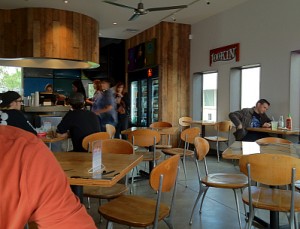 Echoing an adapted carport with its hulky, sterile white walls, floor-to-ceiling rolling glass doorway and polished concrete flooring, Green embodies a youthful, transitional urban quality.
Depending on who you ask, opinions on vegetarian dining―in particular the type that intently plays to mirror more carnivorous experiences―can be polarizing. For enthusiastic food lovers of all stripes, this rings especially loudly.
Without delving too deeply, Green feels like it's trying to strike middle-ground. It also feels successful at doing so. It's a tenacious, animal-free eatery that aims to be accessible to all.
Serving bites influenced Asian to Italian, Californian to Southern American, the menu exists without the easy assistance of animal fats, meats or the like―mock proteins dominate.
Of the many sandwiches on Green's menu, their infamous Secret BBQ Chicken Sandwich ($8) is one of their proudest. Thin medallions of faux chicken, tender as the poultry it mimics can be, sit on a toasted roll with charred onions and mild peppers, lacquered in a sweet crimson espresso barbeque sauce that faintly teases Asian undertones. A dollop of vegan mayonnaise helps add body.
The No Harm Chicken Parm sandwich ($8) is even more successful, with the mock meat cutlets deep-fried, perfectly flaky, bathed in a sweet marinara sauce and glued together with a satisfying, molten mound of vegan mozzarella. If there was ever a carnivorous deception that didn't matter, it existed with this sandwich.
Sides like the hardy tahini coleslaw ($3), addictive samosas ($4.50), and the terribly good thyme-flavored French fries ($3), all continue to indicate that unlike similar vegetarian outposts of yore, where befuddling flavor inadequacies dominated, Green represents a fresh brand of animal-abstaining ethos – a generation where the sentiments remain, but its creativity and craft have been encouraged to evolve.
Green New American Vegetarian and its neighboring sibling Nami, the pint-sized coffee, ice cream and bakeshop (read: all vegan) that sits immediately across its tight parking lot, both live along 7th Street, just north of Palm Lane―a vibrant stretch of asphalt that keeps bearing fruit.
If you go
Where: Green New American Vegetarian (Visit Nami here)
Address: 2022 N 7th St, Phoenix, AZ 85004 (Map)
---