(From the Wire includes press releases received from reliable sources that help tell the story of the many happenings in Greater Downtown Phoenix. Yep, they are ripped from our inbox.)
"I don't have a bad memory of ice cream," Jesse Robinson, the founder of The Sweetness ice cream said. "The worst tragedy in the world could happen, but if you have ice cream, it makes things just a little bit better."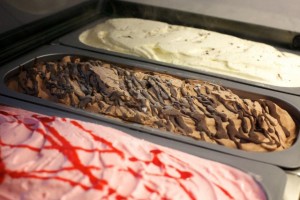 With a lack of ice cream shops in downtown Phoenix, Robinson decided to open his own ice cream business, The Sweetness. On Friday, the Fair Trade Café on First Avenue and Roosevelt will hold a grand opening event for The Sweetness.
The Sweetness will only serve super-premium ice cream made locally and specifically for the business. Super-premium is the highest quality ice cream, the same grade that Häagen-Dazs uses.
Robinson became passionate about ice cream after living in Boston for seven years, where he said that small ice cream shops were popular. When he moved back to Phoenix, he missed having a locally-owned ice cream shop to visit. So Robinson decided to open an ice cream business of his own.
"I love Phoenix, and ice cream is really simple. It's a no-brainer because everybody really loves it" Robinson said.
The motto of The Sweetness is "Just Better Ice Cream." Robinson said he believes that ice cream doesn't have to be complicated. The flavors of The Sweetness are familiar, like mint-chocolate chip, and are always made at the highest quality.
The ice cream will also be served late nights, open Thursday through Saturday until 2 a.m. and Sundays until midnight.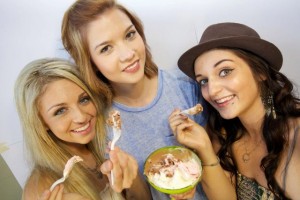 In the developing stages of his business, he had dinner with one of the co-owners of Fair Trade Café, Michele Lavis-White, to talk about life as a small restaurant owner in downtown Phoenix.
The original plan was that Robinson would open a shop of his own, but after talking, Robinson and Lavis-White came up with an idea. The Sweetness would be served at Fair Trade Café.  Part of Fair Trade Café's mission is to support local business any way they can, so working with The Sweetness seemed like a great idea.
Lavis-White said, "With the economy how it is, the more small businesses band together, the more likely we are to see the other side of this thing."
The coffee flavored ice cream will be made with Fair Trade Café's coffee.  They will also offer a specialty drink called an affogato. For an extra dollar, customers can get a shot of espresso with a small scoop of ice cream.
---