[Ed note: Even though TEDxPhoenix is taking place in Mesa(?), we have to admit that some worthwhile events take place beyond our core. Here's hoping this one will take place in Downtown Phoenix next time.]
Guest contributor Neda Tavassoli shares a view of TEDxPhoenix through the eyes of a couple who have been inspired by TED Talks to create an accessible, local TED experience.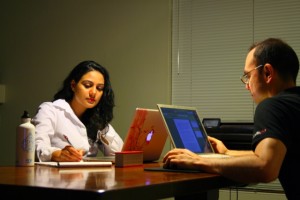 I have heard this story played out many times. A talented designer, an inspiring writer, a tech-savvy gamer leaves Phoenix in search of opportunity…elsewhere. Some argue that Phoenix doesn't house enough large corporations or think tanks while others claim Phoenix shoots itself in the foot constantly by under-funding the arts and education. Whatever the reason, Phoenix seems to go through cycles of losing some great thinkers and leaders. Enter Wardah Jamil and Tomas Carrillo, a duo determined to plug the brain drain.
Part power couple and part fraternal-like twins complete with the ability to finish each other's sentences, Jamil and Carrillo have taken their passion for TED and turned it into a successful, local, non-profit event. TED, an acronym for technology, entertainment, and design, has earned a reputation for bringing together some of the world's most dynamic thinkers and presenting them on stage in a series called TED Talks.
Carrillo states, "I stumbled across a blog post featuring Tony Robbin's TED talk in 2006…the ideas that Tony explored regarding why we do what we do, was just enough brain fuel to start changing the way I looked at the world around me." Carrillo may have initially "stumbled," but his passion soon charged ahead. In collaboration with Jamil, he brought TEDxPhoenix to life.
"Only a select group of people will get to experience a TED conference in their lifetime," Jamil adds. High ticket costs and scarce availability make it just a dream for many. TEDxPhoenix is a locally organized not-for-profit event that brings people together around great ideas worth sharing and doing, and it is accessible to all. Going on the idea that "inspiration is infectious," Jamil and Carrillo are bringing people from all over the world in hopes of sparking new collaborations.
The theme for this year's TEDxPhoenix is "______ for a Change," and features a line up as ambitious as Jamil and Carrillo. Speakers include Kelli Anderson, a self-proclaimed artist, designer and "tinkerer" from Brooklyn, New York; Brenda Brathwaite, a game designer named one of the most influential women in the gaming industry by numerous trade publications; Jacob Soboroff, an AMC news correspondent and voting activist; and Samuel Chelpka , a four year-old reciter of poetry whose passion for words can bring adults to shame.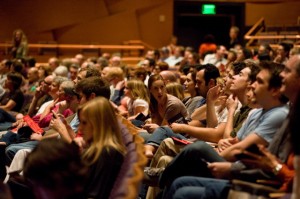 While these speakers from various parts of the States will be here to inspire and interact with Phoenix audiences in a social environment, Jamil and Carrillo made sure to include talent from here in Phoenix as well, for according to them, Phoenix has no shortage of leaders. Linda Essig, head of ASU's arts entrepreneurship program called p.a.v.e.; Michelle Blades, a musician who plays a mean ukulele; and Justin Beckett, chief and owner of the raved-about Beckett's Table are a few of the Phoenicians who will grace the stage. That's just the tip.
For Carrillo, TEDxPhoenix is his way of giving back to a community that has given the native Arizonan so much opportunity. "You just never realize how inspired you can become with one simple interaction," he states. He and Jamil hope to offer hundreds of these simple interactions to Phoenicians who seek to inspire, understand and experience. By the end of the event, attendees will have become TEDxers, a group who may be spread out all over the world, but who share the secret handshake of what it means to be a part of TEDx.
If You Go
What: TEDxPhoenix
Where: Mesa Arts Center's Piper Theatre
When: Friday, November 11. The event begins at 4pm.
For more information, and for tickets: visit www.tedxphoenix.com.
---