(From the Wire includes press releases received from reliable sources that help tell the story of the many happenings in Greater Downtown Phoenix. Yep, they are ripped from our inbox.)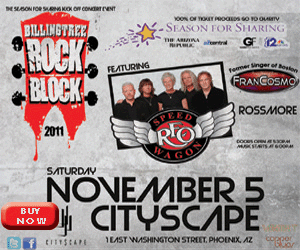 BillingTree® RockBlock™ returns to Phoenix Sat., Nov. 5, 5:30 p.m., bringing a high energy lineup of classic rock favorites REO Speedwagon, Fran Cosmo (the voice of BOSTON), and Rossmore, who are led by a powerhouse of movie moguls including Bill Fay whose credits range from Independence Day to the Hangover movies. 
CityScape, downtown Phoenix, Central Avenue from Washington to Jefferson takes over as the new venue for this annual charity rock festival. The event is presented by Phoenix-based BillingTree, The Arizona Republic, 12 News and azcentral.com to kick-off the "Season For Sharing" campaign.  R Entertainment is again producing this high profile community event. Plus, fans will get satisfaction knowing 100% of ALL ticket monies (the entire $20 or $100 ticket amount) goes to local Valley charities through the "Season For Sharing" annual fund raising drive.
"This is the third BillingTree RockBlock and our first time as the kick-off event for Arizona Republic and 12 News annual holiday fundraising drive – Season For Sharing, and at the fantastic new CityScape venue," said Dan Willis of Phoenix-based BillingTree's Board of Directors. "The concert and festival atmosphere has grown every year and we couldn't be happier to have legendary acts whose music resonates across generations.  At BillingTree, we love music, we love to give, and we love to have a good time – we will continue to host and grow RockBlock because as our slogan says We Give A Jam."
BIG TICKET VALUES.  BillingTree RockBlock tickets are on sale at http://www.MyBillingTree.com/RockBlock or call 1.866.977.6849.  General admission is $20 or $25 the day of at the gate.  The $100 VIP ticket is a complete package that includes admission in the skyboxes above Central Avenue, dinner and drinks. Doors open at 5:30pm.
PARKING.  CityScape has plenty of underground parking available to the public. Parking can be accessed on Washington, Jefferson or First Avenue and in addition has Light Rail stops nearby.
---