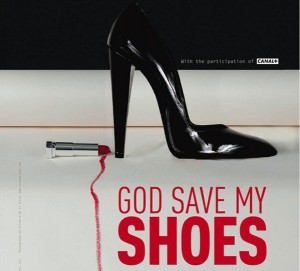 DPJ is proud to bring you the first Fashion section of Greater Downtown Phoenix: "Seamless," edited by Corbin Chamberlin. Every week, visit DPJ for the latest fashion and retail news, interviews and all kinds of fashionable mischief.
Sole-seekers and footwear fiends, "God Save My Shoes" is a must-see documentary for you. A look into the psychology and relationship between women and their shoes, the film features shoe savants such as Christian Louboutin, Manolo Blahnik, Pierre Hardy, fashion editors and even sex experts. The film will give you a peek into the ultimate shoe Shangri-La, the Vogue shoe closet.
The festivities start at 7 p.m. with a cash-only bar and nibbles, and the film screens at 9 p.m. All proceeds benefit Arizona Costume Institute's mission to support Phoenix Art Museum's Fashion Design Collection.
If you go
What: "God Save My Shoes" (view the trailer here)
When: October 28 at 7 p.m.
Where: Phoenix Art Museum
Sponsored by: Phoenix Art Museum's Arizona Costume Institute Nouveau. Purchase tickets here.
---