When Tom's Tavern owner, Michael Ratner, passed away last November, an all-too-familiar collective sigh came from Downtown Phoenix devotees: Another icon, gone.
That referred to both the beloved Ratner, who succumbed after a two-year battle with esophageal cancer, as well as fears for the future of the more than 80-year-old landmark.
Those fears were firmly put to rest on Thursday, when the new owners and management team rolled out the red carpet at Tom's Tavern & 1929 Grill at 2 N. Central for a re-opening celebration. The sold-out event, which drew scores of local political and social "A listers," was a benefit for former police officer Jason Schechterle's new nonprofit, Beyond the Flames Foundation.
The event raised $31,000, which will be used to "help others going through life-changing adversity," according to Schechterle. Schechterle's tragic accident 10 years ago, which burned more than 50 percent of his body, and his faith-filled response have led him to his path today as a motivational speaker.
The restaurant will open to the public next Thursday, Oct. 13.
A New Steward
"I'd known Michael for 20 years," said Michael Bidwill, Arizona Cardinals' president and head of the group that purchased the restaurant early this year, following a time when there was uncertainty about whether it would be close. "When I met with him, I told him that if he didn't have a buyer, I was interested.
"Too many other institutions in this town are no longer around," said Bidwill, who said he hopes to be "a steward of this great institution."
One of Ratner's priorities, according to Bidwill, was that any new owners would put money into the restaurant and do the needed renovations. The stunning result of its 10-week renovation is evident; the dark woods and marble accents catapult it into a different league.
History Preserved
Yet, it is still decidedly Tom's Tavern.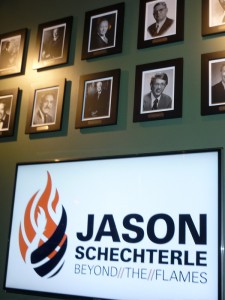 "It's so important to have that nostalgia. As you walk through the restaurant, you can see the history on the walls and in the re-framed photos," said Greg Freed, general manager. "We want to stay true to what Tom's was–high quality, comfort food at reasonable prices."
There is still a private governors' room, but it has been updated with electronics. The room can be reserved, free of charge, for groups of up to 25 people.
And there will still be some of the "old favorites" on the menu.
Comfort Foods With a Twist
Tom's Tavern will be serving breakfast, lunch, and dinner during the week– and on weekends, which is new for the restaurant. While there are old favorites on the menu, like the chili, even those are being "tweaked," under the close supervision of Executive Chef Jason Choate. He said that 98 percent of the dishes will be made from scratch, leaning heavily on local and organic sources, such as produce from Maya's Farm.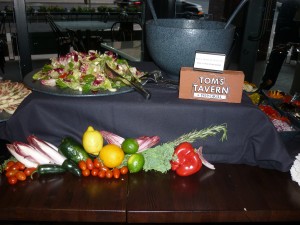 And then there are the comfort foods with an upscale twist, such as chocolate layer cake with jalapeno cream, and the cinnamon rolls with rum-soaked currants and cream cheese maple icing.
Choate said they have their own in-house meat smoker, which will be used for everything from the bacon to corned beef, with a strong emphasis on barbecue items. As with the old Tom's Tavern, no one will walk away hungry.
---