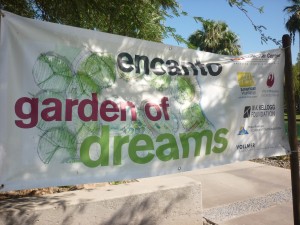 What project would you dream up if you had $100,000 to spend?
For students in ASU's American Humanics program, that dream is now reality with the ribbon-cutting ceremony for the Encanto Garden of Dreams at Encanto Park this Friday at 8 a.m. The Garden will be an education center for youth from area schools, nonprofits and other organizations to learn about low-water usage vegetation, the need for conservation and sustainability in our desert environment. Funded by the W.K. Kellogg Foundation, it is a collaborative effort of the American Humanics program, part of the ASU College of Public Programs; the ASU Lodestar Center for Philanthropy and Nonprofit Innovation; and the City of Phoenix's Parks and Recreation Department.
An Ongoing Project
"Even though the grand opening is on Friday, technically it will never be completed," said Tiffany Bailey, a senior in the American Humanics program, who has headed up the project for the past 1 ½ years. "There will constantly be new projects going on."
The hope is that this unique area, located west of Enchanted Island, bordering the parking lot, will become a well-utilized community space. It has seating walls, an abundance of open areas, surrounded by mesquite trees, agaves, yuccas and other plants.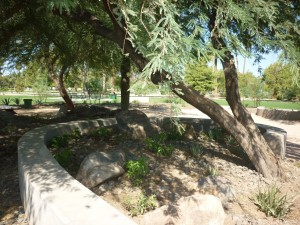 Bailey noted ASU is setting up a request for proposal (RFP)  process so community groups will be able to apply for funding for service projects that benefit the Garden.
"It's cool on both sides," she said. "Now students will be able to be on the other side, learning about approving grants."
A Different Vantage Point
While Encanto Park was not the original destination for the Garden—the students were looking at what is now Civic Space—it ended up being the perfect fit for the underused Cactus Garden, according to Jan Sherwood, City of Phoenix's Park Manager for Encanto Park. Maintenance needs are low, she added, because of the drought-resistant plants and desert landscape.
"It certainly brings a new viewpoint to the park," Sherwood said, who added  it was "kind of a weird area" in the middle of the grass, but not necessarily a destination unto itself. Now it's an area where you can do lesson plans and talk about conservation issues. It's also very serene, a great place for reflection," she said."We've always enjoyed great community involvement and the Garden is an extension of this."
Embedding ASU in the Community
The project first took root at the 2008 American Humanics Management/Leadership Institute. At that time, the W.K. Kellogg Foundation asked a group of ASU American Humanics students what they would do if they had $100,000 to spend. In response, the students submitted a proposal to create a community space which ultimately became the Encanto Garden of Dreams. ASU Lodestar Center not only helped secure the grant, but has provided both fiscal and programmatic assistance to the students.
"It ended up doing what it was designed to do—bring multiple groups of people that have community care together," said Dan Minton, program coordinator senior for the Lodestar Center.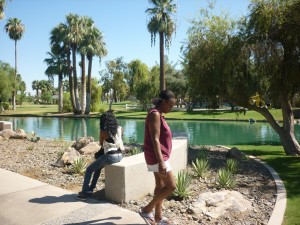 He said it will provide an opportunity for students to go out and meet with youth from local nonprofits to collaboratively work on educational projects. There's no question it's already been an education for the students involved. Bailey said this has been a major learning experience for her—from purchasing materials to working with a budget and learning how to stage events.
"This project involved a number of people and organizations that made it possible and, thus, provided a terrific laboratory for students to learn about community development," said Dr. Robert Ashcraft, Executive Director of the Lodestar Center. "Students learned about how to take ideas, adapt to community needs and wishes, collaborate and negotiate in ways that have resulted in something everyone can be proud of."
But, beyond the education, for ASU, the Garden embodies a broader goal of being an integral part of the community it serves.
"For our Center, this has meant we can demonstrate community impact  by not just talk or only through hypothetical case studies," Ashcraft said. "Establishment of the Garden means our students, our ASU Lodestar Center and the University are socially embedded in the community in ways that advance the quality of life for citizens."
---