Eight is the magic number
With the loss to the Padres on Sunday afternoon, the Diamondbacks saw their franchise-record, home-winning streak come to an end at 15 games. This was the first loss for the D-backs at Chase Field since August 8. During that time the D-backs have built their lead in the NL West to a comfortable nine and a half games.
With only 14 games remaining in the regular season, the D-backs magic number is now down to only eight. This means that any combination of D-backs wins and San Francisco Giants losses totaling eight will clinch the division for Arizona. The D-backs are also only a game behind Milwaukee for the second-best record in the National League.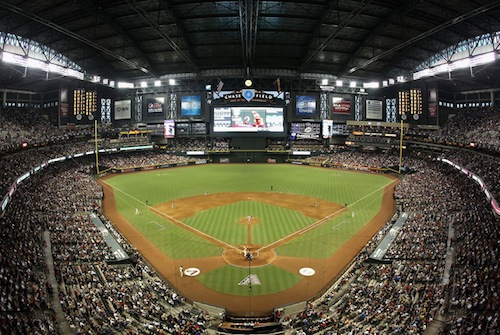 Finishing second would be ideal because it would mean hosting a playoff series as opposed to opening up on the road versus the Philadelphia Phillies. Of course the argument can be made that you can't avoid teams and to be the best you have to beat the best. There is truth to those sayings, but the reality is that the best chance for success is playing as many games as possible at home.
Stars have aligned
September 11 was earmarked as the time for the Arizona Diamondbacks to celebrate the 10-year anniversary of the 2001 World Series Championship. It was only fitting for festivities to take place in conjunction with 9/11 memorials being that September 11, 2001 was such a big part of the championship run. There was an inherent risk associated with making commitments for events this late in the season – considering the fact that the D-backs were not expected to remain competitive in the division this season.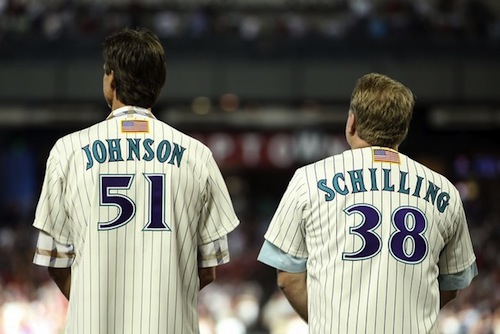 If the D-backs were out of the playoff chase at this point, the celebration would have certainly lost some momentum – which would have been a shame. Fortunately, this memorable weekend came around with the 2011 Diamondbacks rolling in first place and playing some of their best ball of the season. All the pieces fell into place even better than management could have anticipated.
Exciting weekend at Chase Field
To commemorate the '01 team, the D-backs wore their throwback uniforms over the weekend. They also welcomed home players from the championship team. Fans responded by filling Chase Field over the weekend providing a heroes welcome with the highlight coming on Saturday night when World Series co-MVPs Randy Johnson and Curt Schilling were on hand to throw out the ceremonial first pitch.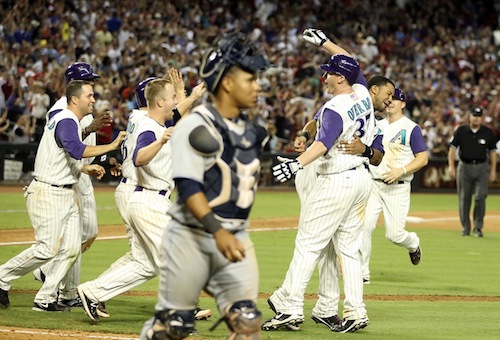 There was a magic formula brewing this weekend that resulted in establishing a playoff atmosphere in town. Fortunately the D-backs seem up to the challenge and actually embraced the bigger stage. Hopefully there will be plenty of meaningful games to enjoy in the coming weeks. October is a great month for baseball.
---