As Fairmont Pharmacy closes in on its first year in business next month, co-owner Greg Roller believes they've found the prescription for success: Get to know all your customers by name; make sure you have what they need, when they need it; and embed yourself in the community you serve.
"This is a hip neighborhood and people really want to support local businesses," said Roller, speaking of the Uptown Phoenix location, on Central Ave., nestled next to Practical Art. "And there are people who have been here forever."
At a time when local stores are enjoying a surge of popular support, Fairmont, a member of the Leader independent pharmacies network, still has its work cut out for it. It is the David to the Goliaths of the likes of Walgreen's and CVS, which clearly dominate the market.
The perception is that the chains can get better pricing, but Roller insists that is not the case.
"It is very, very easy to compete price-wise with them and, in some cases, we're almost too low," he told the Downtown Phoenix Journal. "With prescription drugs, the co-pays are the same."
Part of the problem, he said, is that the big insurance companies have policies that tend to favor the chains. "We're getting together as independents and fighting back more and more," he said.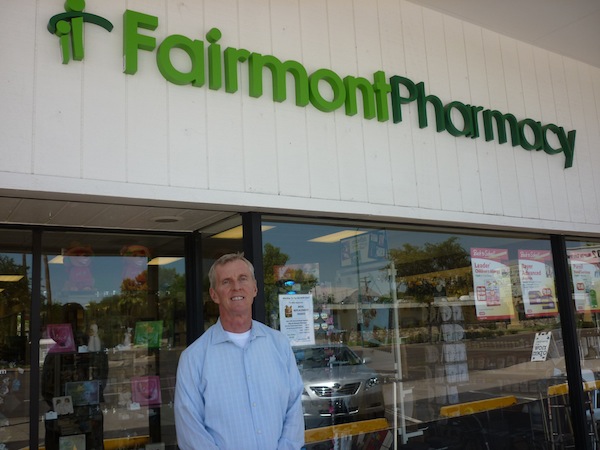 Roller knows all too well what it's like on both sides of the aisle: he earned his stripes as a CVS employee and was involved with another independent pharmacy in Phoenix that eventually was sold to CVS. But he has found, time and time again, that the independent route is the most alluring for him.
"A pharmacist does not just dispense a pill," he said emphatically. "It's about developing relationships and getting to know customers holistically."
That relationship is what has convinced Lindsey Bair, a vocal teacher who lives near the store's Medlock Place neighborhood, to switch to Fairmont.
"This place changed my life," said Bair, shaking her head, blue highlights accenting her dark tresses. "I had been complaining about going to the 'Big Man'–it was horrible– and was told about this place by a nurse practitioner I had worked with. They always have my stuff, they are super friendly—and they know my name," she said.
Another customer, a nurse who asked to be identified only as Sandy S. because she works in the area, noted, "It's lovely in here—really different. It reminds me of what drug stores would have looked like back in the day."
At first blush, the product offerings look familiar to the larger chains as a visitor wanders through the store: teeth- whitening strips, allergy medicines, contact lens solutions. But there is also a pet section with unique items like biodegradable dog bags, and a wide selection of liquid herbal extracts and homeopathic remedies. There is also an extensive selection of home health care products, from wheelchairs to lumbar back cushions and bathtub safety rails.
Roller, who own the business along with three partners, said that almost all their advertising to date has been word of mouth. While over the winter business was increasing by 30-40% month over month, not unexpectedly, things have slowed down quite a bit over the summer. He's hoping that back-to-school business will rev things up again.
In the meantime, he is looking forward to continuing his relationships with health-care related businesses, such as the neighboring Phoenix Skin, and expanding the customer base by offering quarterly educational seminars on health-related topics. And as for birthday celebrations, Roller is thinking fairly low-key: maybe a birthday cake and, of course, an invite to all the neighbors.
---