Although this show is a week away, you need time to find yourself something that a) lights up or b) is comfortable enough to dance in and breakdown some moves.
deadmau5 is coming to the Phoenix Convention Center on September 1.
The ticket prices are a bit high but believe me, it's worth it.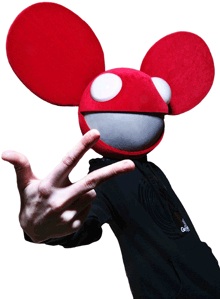 Don't know who deadmau5 is? You've probably seen his famous symbol of the mouse head with big eyes and an even bigger smiling face somewhere around the Valley.
It wasn't until this past year that Joel Zimmerman's stage name (pronounced dead mouse) became a house music fan's must in their collection.
Zimmerman, originally from Canada, started in 1990s but didn't take off until mid 2000s with the start of his own label and the release of Get Scraped.

His odd stage name came from when he discovered a dead mouse in his computer. Some way or another, he was known for this and became deadmau5.
When single "Ghosts N Stuff" was released with Rob Swire on vocals, it was a necessity at parties, raves and to just dance to. His music is different and one-of-a-kind sound can be thanked by the computer technology he uses. He is no DJ, there are no CDs or records up on stage with him. He has complete control of everything coming out of the speakers.
His shows have sold out all over Europe and the US and to add to his list headlined many festivals including Lollapalooza in Chicago earlier this month and playing at the 2010 Olympics.
His live performances include guest vocalists and some of the biggest lights and lasers shows to hit the stage; they put Muse's to shame.
His live DVD recently came out of his show at Earl's Court where 17,000 came out to watch him perform and he definitely delivered a once-in-a-lifetime show.
Zimmerman's live show includes his famous mouse mask that changes lights and colors throughout the set and some of the adventurous sounding progressive techno with ups and downs and breakdowns that will send chills through your spine. It's an instant body reaction to lift your arms in the air and lift your legs to the music.
Ticket prices at $50. Show starts at 7 p.m.
---