It's Noon Somewhere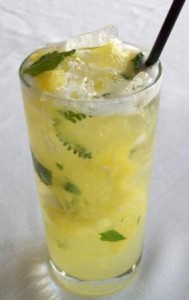 Simply put, it's effing hot. So, what are you going to do about it?
We say, let's drink! But, let's have really gooooood drinks. You know the ones with fresh herbs, real fruit and such?
Our friends at District American Kitchen & Wine Bar have come to our rescue and are offering up two new and frothily refreshing drinks of just such a variety. And, they grew the herbs themselves, right on their rooftop garden.
If you can't make it over to District, why not raid the liquor and produce aisles (and, maybe your neighbors garden for the lavender) and try them out for yourselves. Bottoms up!
District's American Muddled Drinks $10
Pineapple Lavender Mint
2oz Rain lavender vodka
1.5oz fresh lemon juice
1.5oz simple syrup
2 lavender leaves
3 fresh pineapple cubes
8 pineapple mint leaves
Sage Julep
2oz Maker's Mark
1.5oz fresh lemon juice
1.5oz simple syrup
2 lime wedges
5 sage leaves
---