One thing that can always be guaranteed at Trunk Space is a cheap show with some truly quirky bands.
Portland-based Destroy Nate Allen play alongside Phoenix locals Snail Quail and Shortstack Lightning this Friday as part of Phoenix's First Friday event.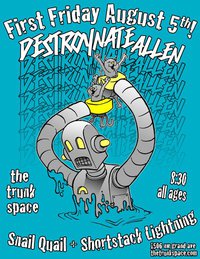 Destroy Nate Allen is a folk punk band known for their upbeat lyrics and tunes.
Nate and Tessa Allen are not your average married couple with blue and pink hair screaming lyrics like: "Jesus keep us safe from the cops."
Their sing-a-long type songs are fun to clap your hands to.
Opening up for the duo is Snail Quail, a local Phoenix band with an anti-folk, indie sound in the same satiresque genre like Millencolin and Dead Milkmen.
The trio is headed by singer and guitarist Jonathan Cisneros, bassist Desert Muserelli and drummer Tim Hoag.
They recently released "Phoenix, Arizona", a single about their love-hate relationship with Arizona.
Cisneros sings about the Phoenix that most locals know living here after one year such as being hell on earth, our clear skies and that the majority of artists move to the more hipster places like Portland or New York.
His comment to those who leave? "I just laugh because Phoenix is so badass."
One of the truly comedic lyrics is "but if it wasn't for A/C, this isn't a place I would be."
The band just finished up recording in late June and plan to release new songs soon.
Of the three bands, Shortstack Lightning has more of an old school loud, thrash punk sound.
The three bands will make for a nice combination of acoustic fun punk to loud in your face punk definitely a First Friday perfect show.
---