I love silly. Silly putty, silly jokes, silly ideas. Silly, wacky goofiness – my cup of tea. I'm pretty much a big kid.
Then there is science and technology. Fascinating subject matter, but I'm not as proficient in articulating the complex theories of quantum physics without causing myself utter embarrassment (versus reiterating a knock-knock joke). So, I stick with silly.
The Blue Bike gang has both areas down to a…well…(ahem) science. And it's insanely fun watch. Plus, they can time travel. Can you time travel? Didn't think so.
The Blue Bike Kid Show consists of the triumphant trio, Boyd Branch, Steve Wilcox and Elizabeth Peterson, who educate children about science and technology through quirky adventures. Think: Bill Nye the Science guy meets a nostalgic theater troupe.
Their creative style attracts audiences beyond their 8-13 range. Imagine being transported to the moon with the Blue Bike Time-O-Poration Photobooth, best described as an antique camera display and a green screen backdrop…at the Phoenix Public Market. (My grandmother was impressed. The moon picture is on her refrigerator.)
This is just a slice of what they do. Their focus is unique: How do we engage with our young generation to connect the world of modern digital technology with problem solving and community involvement? Their solution: Create an interactive kid's show packed with entertaining stories, activities, and exciting adventures to expand the scope of scientific wonder.
Steve Wilcox, one of the trio troupe members, noticed that kids today are surrounded by all this technology, but are interacting with the technological world by means of consumption instead of creativity.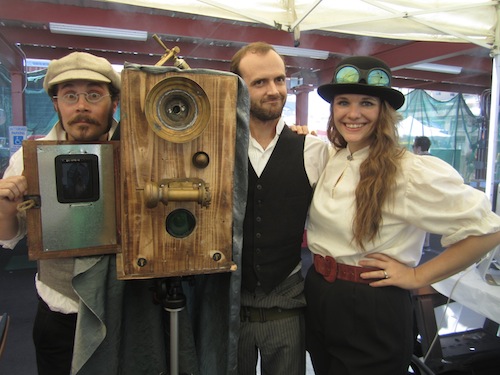 They took the idea to the web and designed a show based on a creative, educational experience for kids. Taking this a step further, the Blue Bike gang also highlights people in our own community on their website, such as scientists and engineers, to showcase experiments and innovative designs, inspiring kids to learn from the best.
I love that part the most. Not only does the Blue Bike gang energetically engage and educate young kids about science; they also partner with other creative scientific minds to enhance the experience and bring their ideas to life.
Best of all, the show can be brought… to you! Community Event? Science Day? The Blue Bike gang will be there, complete with their educational gear and whimsical, captivating performance.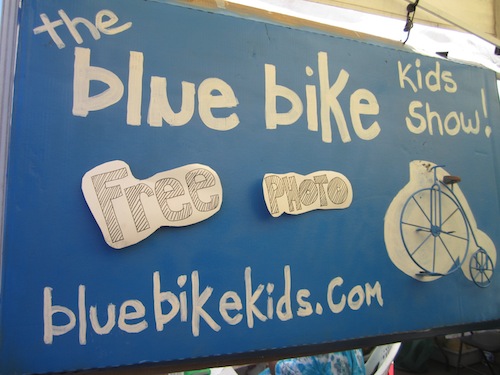 This fun-loving Blue Bike group, who are big kids themselves, are a rare find in the community. They are taking on a not-so-easy feat: change the way children experience the world. I agree, many kids are not challenged enough to take advantage of this amazing technological era we live in. Their definition of technological success is scoring high points on Super Mario Wii. The Blue Bike gang is tackling this problem with innovative strides and reaching the youth in ways that television shows simply can't.
How? By getting kids motivated, allowing them to discover the potential of technology through good, honest, goofy, silly FUN.
---