This weekend Lost Leaf has two shows going on for those who need some Friday or Saturday plans.
Like all their shows, they start at 9 p.m., for the older folks (meaning 21 and older), and most importantly, not heavy on the wallet.
Fatigo is quite the eclectic group from Arizona, with more members than a symphony. Okay, not really, but you'll get the idea.
This fifteen-member band includes bass, guitar, drums, cello, trumpet and more.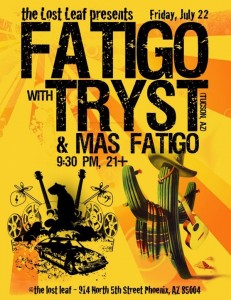 Their primary sound is a weird little mix that works. Southwestern blues meets folk. Each song has a different main sound or feeling switching up the lyrics with Spanglish.
Half the Lost Leaf will be filled with band members from Fatigo, it'll be hard to imagine where their instruments will go.
Saturday night has more locals with Tempe-based band O' Henry.
Six-member indie band has a bluegrass folk feeling with a nice touch of a fiddle.
They released their first CD last November entitled after the Bradshaw Mountains area, Horsethief Basin speaking true to every Arizonan about escaping the blistering heat and avoiding the mundane of the desert life.
Listen to "Point South".
Both bands have a down-to-earth Arizona folk sound with a twist of bluegrass or Mexican roots.
Either way you'll be having a good time, chilling with one of Lost Leaf's finest beers.
Lost Leaf is located at 914 North 5th Street Phoenix, 85004.
---