A few blocks east of 7th Ave, north of the Roosevelt, is Hood Ride, which is where bicycles go to be reborn.
Bike parts of every kind can be found in the trailers that sit in the backyard of a mid-century home in the Garfield district, giving Hood Ride of some hipster lab that's always brewing up new things.
Roll out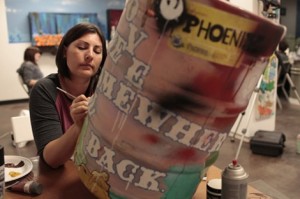 Pacifico (the beer) knows this better than we do. As part of their roll out announcing Pacifico on tap here in the states, the company planned a series of parties in four West Coast cities and Phoenix. Parties had local fare–Hood Ride in Phoenix had carne asada tacos, chips, salsa and guacamole and plenty of cold beer and soda.
Catch me vampin'
The vibe was certainly different than most downtown events, an atmosphere for those who miss having something a little weird downtown. Did I mention they also had graffiti artists decorate one keg for each location? That's something you don't see at most bars.
Free?
While some people would scoff at such blatant attempts to influence (they did give us free beer and a GoPro), it's refreshing to see a beer company do more than just invite a bunch of faceless people to a bar. By choosing to promote the eclectic, devil-may-care lifestyle that Hood Ride compatriots live, Pacifico certainly shows they listen to their customers.
Think next they'll take on PBR and their hipster? Bottoms up to that.
---