(Author Nicole Underwood's second piece for us is delectable. Think we should keep her writing for us?)
When you think of chocolate, what comes to mind?
Rich, decadent, sweet…
Therapeutic?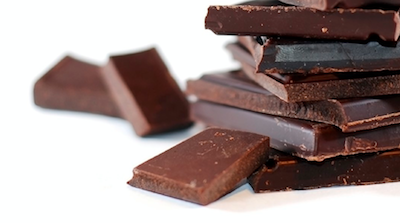 Chocolate now has a whole new meaning for me thanks to chocolatier Lisa Reinhardt and her indulgent Wei of Chocolate "experience."
Let me be clear – this is not just any type of chocolate (and those who have tasted it would agree.) So, disregard your previously tainted notions of cheap chocolate imitations: Hershey's, Milky Way, Dove, Ghirardelli… THIS is the real deal. Wei of Chocolate is a variety of organic, dark chocolates infused with spices and Lotus Wei's flower essences, designed to balance your body and your mind.
Wait, chocolate that is supposed to create mental balance? Yes. And it does just that.

At the June Get your PHX at Urban Beans, I was able to experience this chocolate first hand from the creator Lisa herself. Having tasted the chocolate at the Phoenix Market before, I was excited to have this rare opportunity to pair the chocolate with luscious local wines and cheeses.
I did not expect to be transformed.
To note, Lisa Reinhardt is a rare breed. She lived in the Himalayas for 11 years and traveled the world, studying the traditions of Nepal, India, and Tibet before returning to the states. Through study and practicing eastern traditions and mediation, Lisa discovered that chocolate is the best way to naturally re-center and elevate others. An experience similar to homeopathy, she partnered Lotus Wei's flower essence infusions to her fair trade, vegan chocolate and vóila: delicious clarity.
As I entered the Urban Beans coffee shop, I spotted Lisa, who greeted me with a soft smile and warm handshake, while standing behind a small table displaying her usual array of flavors. Choices ranged from chai spice to chili-infused, paired with adorable names like "Joyful," "Pure" and "Inspired." But, just as the wand maker informed the young wizard Harry Potter, "the wand chooses the wizard", the same rings true for the chocolate.
So, instead of allowing me to choose a chocolate that sounded most enticing, Lisa held a sign with six different flower images and asked,
"Which flower are you most drawn to?"
I chose a delicate, white five-pedaled flower with pointy pink tips in the bottom-left corner, the Jade Succulent.
"This flower," Lisa explained, "is known for its vitality. People are drawn to this flower if they desire to attract more energy and strength."
Interesting. Didn't know I was going to be partnered with my chocolate.
And thus, Lisa introduced me to Wei Pure, the most simple of her organic dark chocolate choices, balanced with cocoa butter, cocoa beans, cane sugar and vanilla, wrapped in a shiny, recycled silver foil wrapper, and sealed with a brown, corn bio-polymer Wei Chocolate label, a remedy to nurture my soul.
From a simple piece of chocolate.
Granted, I have always been a huge fan of chocolate. Dark chocolate has a plethora of health benefits to be sure. Never did I consider chocolate to be an avenue for stability and enlightenment. Lisa pointed out studies showing the improvement of cognitive performance and mood when chocolate is consumed, due to the increased blood flow to the brain. Partner that with natural benefits of flower essences, layered with ethically traded cocoa beans, conscious, green packaging, and a local Phoenix entrepreneur, and I suddenly have in my possession a blissful, guilt-free way to acquire balance in my life.
"I see each chocolate as an opportunity to meet our true nature," Lisa described, with a knowing grin. "People naturally know and gravitate to what they need. I wanted to create something that is honestly good for people; that helps them be healthy in a delicious way."
And with that, she happily handed me a piece of chocolate.
Just what the doctor ordered.
---