We know discovering new sights, sounds and eats in Downtown Phoenix isn't always easy when you're on foot or in an unfamiliar place. The newest, coolest restaurant may be around the corner, but closed. The fancy boutique shops may be open, but were they on 3rd Street or 3rd Avenue?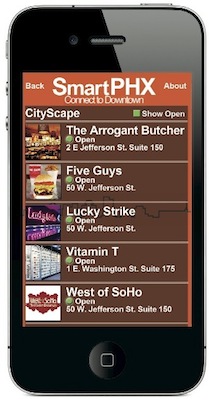 Downtown explorers, fear not.
Thanks to the Arizona State University New Media Innovation Lab, CityScape, Downtown Phoenix Partnership, Phoenix Community Alliance and the City of Phoenix, SmartPHX is the first web app of its kind in Arizona. The SmartPHX web app uses geolocation technology to tell users where restaurants, nightlife, sports and other attractions are in relation to current user location, if the business is open and where they can find parking.
"This is one more way to expose downtown to more people and to get the message out: There are a ton of things to do in the heart of our city," said Mayor Phil Gordon. "I'm downtown virtually every day and it is even hard for me to keep up. Luckily now my iPhone will help me out."
Easy install
iPhone users can install the app by typing http://smartphx.com in Safari and following the instructions to save the web app as a shortcut on the home screen (iPad too, if you walk around with your 3G-enabled device). Android users should search for SmartPHX on the Android Market.
No charge
The web app is completely free to use and, as of right now, isn't laden with ads, doesn't require any kind of registration and won't charge a fee for businesses to upload their information (the latter is still in the works).
"I'm excited because it brings downtown's merchants in direct contact with consumers and vice versa. This is the only app that breaks down the barrier between businesses and their consumers and rewards both for using it," Development Manager Jeff Moloznik of RED Development, the developer of CityScape, said.
Plan your trip
Users need not actually be in Downtown Phoenix to make use of SmartPHX. Regardless of your current location, the web app will show you what's open, where the businesses are in relation to you and the nearest Light Rail stop or parking facility. Each listing is accompanied by a write up describing a bit about the business, along with links to their site.
Those in Downtown RIGHT NOW will love the filtering option, which allows users to see what businesses are open. While it may be surprising to many Downtown Phoenix haters, there are a ton of attractions that stay open until the later hours. Sure, the banks and office buildings are closed, but you can still get a drink, burger or even bowl a few rounds.
Or get a bite before and after the All-Star Fanfest. See you there!
---