(More from farmhand Kyle Maki.)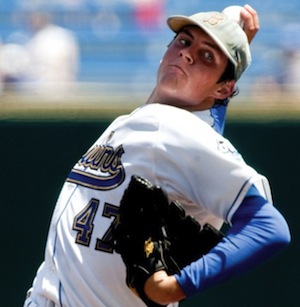 Two of seven
In the 2011 MLB draft the Arizona Diamondbacks had two of the first seven picks of the draft, a luxury that no other franchise has experienced. While we could certainly lament the circumstances that landed them there, there's no doubt that two high picks give the D-backs an excellent chance to land a couple of prospects worth getting excited about.
The D-backs used the picks on a pair of young starting pitchers:
No. 3 – Trevor Bauer, UCLA
No. 7 – Archie Bradley, Broken Arrow High School
Give them time
Only time will tell if the D-backs used their selections wisely, but one thing we know for sure; the selection of Bauer will not go unnoticed. His numbers this season rival some of the best pitching stats seen in recent years. Despite his impressive numbers, Bauer may be better known for his on-field antics than his abilities.
Hippity hoppity
Prior to the draft there was a lot of discussion about Bauer's routines and if this type of in-your-face conduct would be accepted in the big leagues. Video of Bauer's controversial mound routine, which went viral on YouTube, shows Bauer starting from the back of the mound and doing a curl hop onto the rubber and then rifling the ball home to the catcher, each time he takes the mound.
Time for the big leagues
This type of individual display may be entertaining to watch in a college game, but not likely tolerated by major league purists. Regardless of whether Bauer alters his warmup routine, he should quickly become a familiar face to D-back fans for his pitches that count.
---