We Heart the Market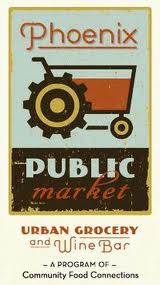 The Phoenix Public Market, with its twice-weekly, open-air markets and the Urban Grocery and Wine Bar, is a beloved institution in Downtown Phoenix. It's all made possible by the companies and the people who make donations and grants to Community Food Connections (CFC), the nonprofit organization that runs the Market.
Bank of America Feeds Downtown Phoenix
One of the largest contributors to CFC is the Bank of America Foundation. A recent grant of $25,000 brought the bank's contribution total to $135,000 over the last five years. The funds support CFC's work with local micro-businesses (the market vendors and farmers) to combat hunger and promote healthy habits by making sure Downtowners have access to local, sustainable food. The grants have also covered some of the renovation costs for the building that houses the Urban Grocery and Wine Bar.
Cindy Says Thanks
"We are very grateful for Bank of America's continued grant support and confidence in Community Food Connection's mission.  We consider Bank of America to be a strong community partner that shares our belief in the importance of food sustainability through supporting Phoenix's micro-businesses," said Cindy Gentry, Executive Director, Community Food Connections.
---