While this is the reduce, reuse, recycle era, one newly popular Phoenician has taken this idea to the next level by producing cat hairball jewelry. And, yes, that is exactly what it sounds like. But you can rest easy, my friend, they are NOT those kind of hairballs.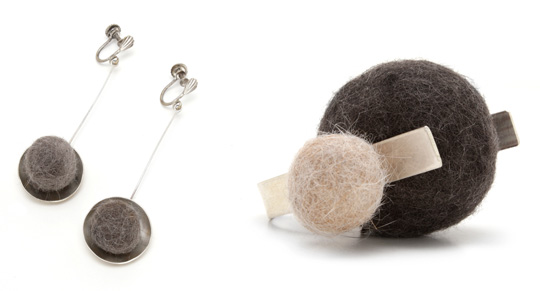 These hairballs are harvested from cats during the grooming process with the use of a device called The Furminator. The kitties in question (all nine of them) are owned and loved by local cat blogger, Kate Benjamin.
Armed with generous donations from her feline friends Ando, MacKenzie, Cymba, Theo, Dazzler, Flora, McKinley, Sherman and Ratso, Benjamin teamed up with local jewelry designer, Heidi Abrahamson, to repurpose cat hair in a fun, fashionable way.
Benjamin says, "The jewelry was meant to catch people's attention, either because it was really great or really gross . . . We meant to make it look like this was in a major magazine, like it was high-end couture."
Benjamin's blog, Moderncat, is for "cat owners with a modern style". And, from the links posted there, you can see that Benjamin and Moderncat are no strangers to national media attention. Over the blog's four-year history, there have been a handful of mentions and brief blurbs in publications like The New York Times, USA Today and The Washington Post.
But that's nothing compared to the attention Benjamin and Abrahamson are getting this week. On May 10th, stories on the fur ball beads ran on websites for New York Magazine, The New York Daily News, The Village Voice and MSNBC.
"We've seen it on blogs in French, Russian and German and in languages we don't even recognize," Benjamin said. "Heidi just sent pictures to the Netherlands this morning."
Despite the hubbub, Benjamin has no plans to do anything different. She says she loves writing her blog and she will continue to do just that.
As for the jewelry, one-third of the proceeds from any orders will be donated to organizations that support cat welfare. For more information, contact Heidi Abrahamson.
---