Need some place to celebrate Seis de Mayo?!
This is probably not the first place you thought of but it's going to be quite the fiesta.
Black Carl and Gospel Claws are playing The Duce for First Friday.
Black Carl rarely plays downtown so while you're looking at art and all the crazies on the street, stop by The Duce for the only funk, soul indie band in Arizona.
Emma Pew, John Krause, Matt Noakes, Chad Leonard and Ian Woodward make up the funky bunch. The band has only been around since 2007 but they are by far one of the "bands you need to know" in the local scene right now.
Pew's powerful voice sings "Hussy" with aggression and a take-no-crap attitude. Amy Winehouse has nothing on her. The long time friends gained the name Black Carl from Krause's roommate who said they were "the Pink Floyd of hip-hop."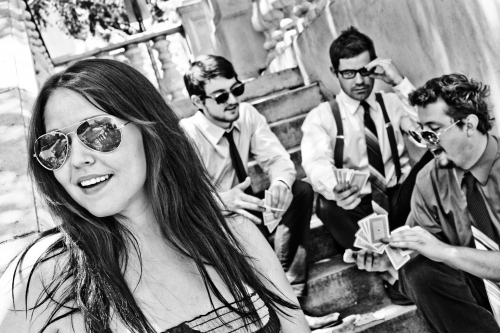 After recording a small EP in Tucson, they're full-length album Borrowed followed shortly after. They took a break from the Arizona heat to tour in support of their CD.
They have plans to tour this year as well as give their fans the sophomore album, The Chariot, they've been waiting for. Until the anticipation of the CD's release, the band has put two singles out on their bandcamp site.
"Shine It Deep" starts off with Pew softly singing leading into a thundering funk bass line. The song jumps into a hypnotized beat that has Pew singing in the background, "I am the gun that you take into battle."
Their new sound has a TV-on-the-radio-type influence with a little bit of old school jazz.
Last year, the band played "The Future of Phoenix" along with Dry River Yacht Club and Captain Squeegee;  Black Carl definitely lives up to that title.
Black Carl and Gospel Claws play at 9 p.m. on May 6.
The Duce is located at 525 South Central Avenue.
---