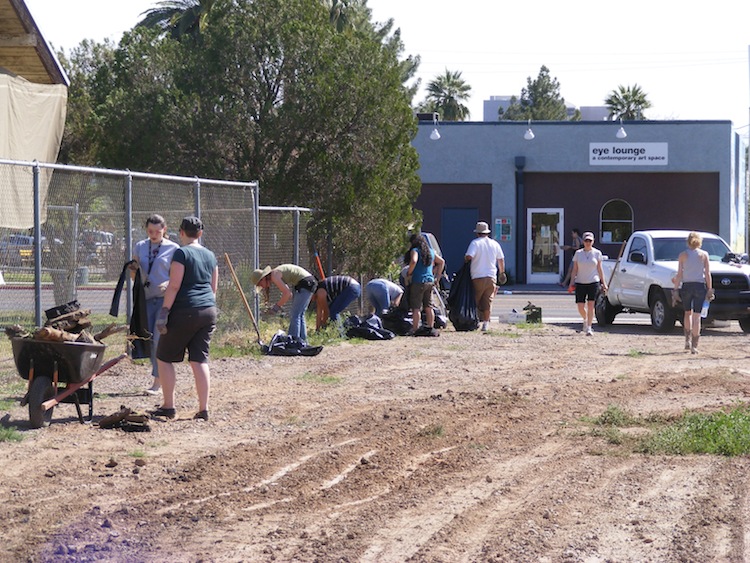 What are these people doing on an empty lot in Downtown Phoenix on a Saturday afternoon? They're helping clean it up as the first lot to participate in the A.R.T.S. program developed by the Roosevelt Row Community Development Corporation.
A.R.T.S. stands for Adaptive Reuse of Temporary Space and is described by Roosevelt Row leader and A.R.T.S organizer Kenny Barrett as a "vacant lot activation" initiative.
Making good use of vacant lots has been a dream of many Downtowners for years now. But it has become an even more fervent dream in recent years, as more and more lots have sat vacant due to developers opting to wait until the economy turns around.
In fact, many residents and neighboring business owners had gotten used to hearing that these lots will become something great, but only in 10 or 20 years. Meanwhile, the people of Phoenix are expected to live with these empty lots amidst their surroundings day in and day out.
But Roosevelt Row was convinced that something could be done with these vacant lots now so the people of Phoenix didn't have to wait a decade or more to use them. The next step was figuring out a way.
According to Cindy Dach, another Roosevelt Row leader and A.R.T.S. organizer, there was an "aha" moment when they discovered a mulch solution. One of the biggest hurdles of activating a vacant lot is implementing dust control measures mandated by the Maricopa County Department of Air Quality. The typical method of dust control, adding gravel to the site, costs around $10,000, according to Dach.
But Barrett's experience with the urban garden on Garfield and 6th streets proved that mulch was just as effective — if not more so — than gravel for dust control, and he knew someone who could donate it. With this solution in hand, Dach and Barrett knew they could make a go of it.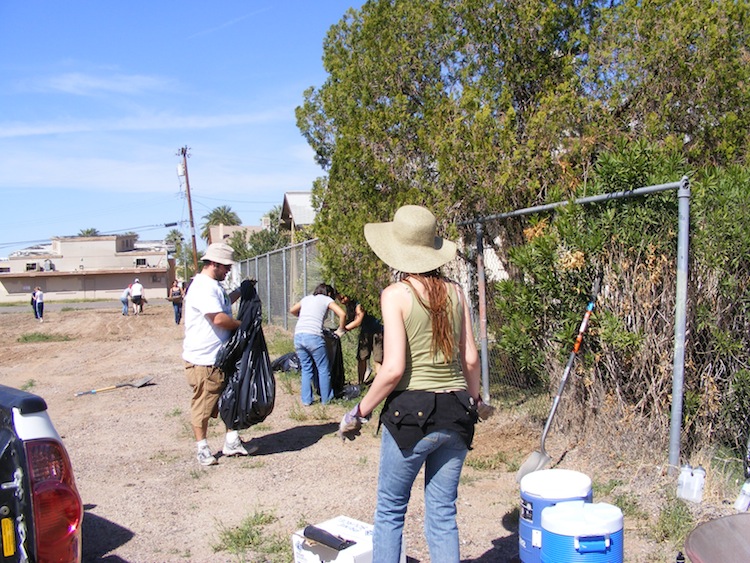 Another big hurdle in activating empty lots is getting the owners of those lots to come to an agreement to let other organizations, such as Roosevelt Row, use them. As it turns out, the owners of the first chunk of A.R.T.S. project land, Richard Gordon and Jerry Grossman, agreed to lease their lot on the north side of Roosevelt between 4th and 5th streets to Roosevelt Row for an amount that covers their property taxes.
Dach was quick to point to the problematic existing state legislation that taxes undeveloped land at a lower rate than land that is developed, thereby incentivizing land owners to keep their lots empty.
She mentioned that one of A.R.T.S.' long-term goals is to instigate change in this policy and to penalize property owners with higher property taxes if they choose to keep their land undeveloped, or even better, have an option to eliminate their property taxes if they agree to lease the land to nonprofits for temporary uses.
How is Roosevelt Row getting permission from the city to reactivate this vacant lot? The nonprofit applied for a zoning adjustment to get a use permit to allow a farmers market per the new Downtown Code. There is a hearing at the end of the month, and with all the community support, expect no problems in the application approval.
One fear that city officials and others typically express about the temporary use of vacant lots is what will happen once the lot gets developed and the temporary uses need to be removed.
But, to this concern, Dach responds that city officials should be more fearful that "if we do nothing, people will flee." She contends that having desolate empty lots Downtown inhibits the area from becoming a vibrant, walkable, livable community that would attract people to come and live in the central core of Phoenix.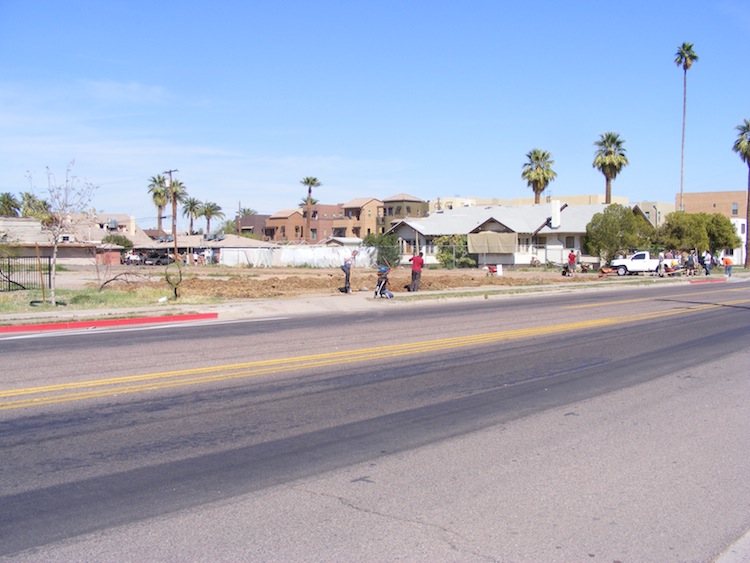 So, now that Roosevelt Row has leased the lot, has dust control taken care of, and has a use permit from the city, what is the organization planning to do?
So far the group has the lot programmed one to two times a month with First Friday and possibly Second Saturday vendors. But Roosevelt Row envisions the space being activated on a regular basis by art installations, movie showings, arts markets, art performances and garden projects.
Roosevelt Row plans to curate the space by putting out a call to the community for project proposals. The winning projects would have to be equal partners with the nonprofit and would have to pay a sponsorship fee of some sort. The CDC is currently in the process of developing the project proposal forms.
---