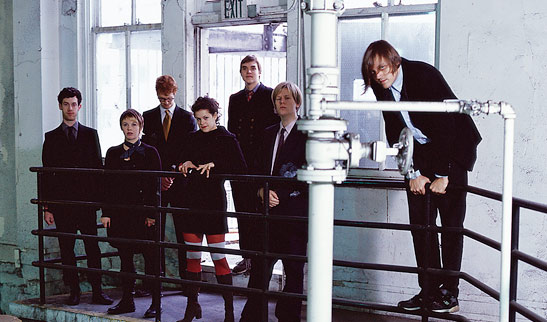 These past couple months have marked the year for Arcade Fire.
After releasing their third full-length album, Suburbs, which just won Album of the Year at the Grammys, they have become the band to download, listen to and fall in love with.
Following a week of Grammy-fueled momentum, Arcade Fire announced on Saturday that they are going to tour, and yes, they're coming through Downtown Phoenix. Three days before they headline at Coachella, they'll be playing at Comerica Theatre on Wednesday, April 13 with indie favorites Local Natives.
Presale tickets sold briskly earlier this week, and tickets officially go on sale tomorrow at 10 a.m. No doubt, this show will sell out.
This is the first time in 10 years that Arcade Fire has graced Phoenix with their presence. When they were here in 2001, the Montréal-based band had yet to even release a full-length album in the U.S. They played an abbreviated seven-song set at Modified Arts to a mostly unaware crowd.
If you have not heard of Arcade Fire, go out and buy Suburbs. You will not regret it.
From "Ready to Start," which has you screaming "Businessmen drink my blood" at the top of your lungs, to the singalong "Rococo," to their angry punkish single, "Month of May," this album does no wrong.
Every song keeps your ears awaiting the next.
Lead singer Win Butler and wife Regine Chassagne founded the seven-member band, which includes almost every instrument under the rainbow: guitar, drums, bass, piano, violin, viola, cello, double bass, xylophone, keyboard, French horn, accordion, harp, mandolin, glockenspiel and a hurdy-gurdy. (That last one is still a mystery to us, too.)
Arcade Fire's debut album, Funeral, came out in 2004 with a raw sadness throughout, laced with words of suicide, death and love. The album instantly catapulted the band up the indie ranks.
Their second album, 2007's Neon Bible, was darker, not lyrically, but musically. It starts off with "Black Mirror," full of angst and anger, with Butler's haunting voice echoing the title. It leads you on a dark dream of emotion from there.
With an album coming out every three years, we can only imagine what 2013 will bring from Arcade Fire. It looks like the band will hole up in its Québec church-turned-studio compound later this year to work on album four.
Refresh your browser around 10 a.m. tomorrow for the best tickets before they sell out. Tickets range from $48.20 to $53.50.
The Comerica Theatre is located at 400 W. Washington St. Downtown (light rail station at Central/Washington westbound or 1st Ave/Jefferson eastbound) — 602.379.2888
[iframe_loader src="http://maps.google.com/maps?f=q&source=s_q&hl=en&geocode=&q=Comerica+Theatre,+400+West+Washington+Street,+Phoenix,+AZ+85003&aq=0&sll=37.0625,-95.677068&sspn=33.489543,79.013672&ie=UTF8&hq=Dodge+Theatre&hnear=Dodge+Theatre,+400+W+Washington+St,+Phoenix,+Maricopa,+Arizona+85003&ll=33.44906,-112.079816&spn=0.012533,0.018239&z=15&output=embed" height="240″]
---