DPJ is proud to bring you the best Yelp reviews of your favorite Downtown restaurants, boutiques, venues and everything in between. Every week, visit DPJ for a finely crafted, tell-all account of a Downtown spot straight from the experts: the people!
Dallas G.
Phoenix, AZ
Five-star rating
01.20.10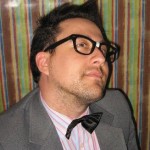 OOOOOOOOOHHHHHHHH YEAH!
Love me some Roose!
Pronounced "ruse" but it's just off of Roosevelt. Pretty cute, huh?
AJ is the stylist. LeAnne takes care of your skin and non-top-of-the-head hair.
AJ, who's been cutting my hair for a couple years, is incredible. Each year, one stylist from OUR WHOLE WONDERFUL COUNTRY is chosen to represent THE UNITED STATES of AMERICA in an huge hair show in France. A couple years ago, AJ was that person. She's really quite talented. Like Edward Scissorhands, but female, and not sporting severe social anxiety disorder. And her skin is radiant and not ghostly white. And her hair is not jet black. Ohh, and her hands are not knives! But other than that, she's exactly like Edward Scissorhands, sculpting works of art out of shapeless masses.
I have not had the pleasure of LeAnne's services yet, but she's über professional. I'm quite satisfied to believe that when she waxes the hair eloquently away from your skin it will hurt less than when others do it.
Go here. Live it. Love it. It's the real dealio…
The Roose Parlour and Spa is located at 906 N. 6th St. in Evans Churchill — 602.274.6942
The DPJ Yelper of the Week offers honest insight on a Downtown business to help you explore your core. DPJ hopes that by partnering with Yelp to spread the good word about well-loved Downtown spots, you'll spread your patronage and support local business.
Yelp is a social networking and local search engine that provides the reviews of places and things that matter to you. Simply log in, pick a place and queue up your inner critic. You can write a beaming review of your favorite gelato spot, or a scathing portrayal of that rental car facility you had to use after that curb came out of nowhere. Yelp's reviews are at once honest, uncensored, wildly hilarious and true. Heck, the site must be doing something right — it had 26 million viewers just last month!
---